Classe Charleston Sipper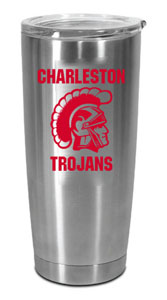 Tuesday, November 22, 2016
Cost: $20.00
Places left: 496
Registrations for this event open Tuesday, November 22nd, 2016
Category: Classe Spirit Sippers
Address questions about this event to
Jeannie Dau
keepitclasse@gmail.com
(217) 549-8332.
Show your team spirit with a customized 20 oz. Charleston Trojans stainless steel travel mug!
 Spirit Sippers keeps your drinks cold for 8 hours or hot for 4 hours. The price of a Spirit Sipper is $20. Products are sold by ClassE students where we will use the profit to help us start up individual businesses in the spring.
ClassE is an entrepreneurial development class that aims to educate high school juniors and seniors about the opportunities, and challenges of starting and running a new business.
Contact us at: (217) 549-8332 or keepitclasse@gmail.com.
Registrations for this event open Tuesday, November 22nd, 2016 until Friday, December 30th, 2016