Regional Cancer Center

Artist Rendition    |   News Releases   |   Publications
After more than a year of planning and anticipating, Sarah Bush Lincoln broke ground Wednesday, April 15, for its new Regional Cancer Center.
The freestanding Regional Cancer Center will offer comfort, privacy and space to its patients. Construction should take about 18 months and is excepted to be complete in early fall 2016.
The new facility, which will be built on the front lawn of the Sarah Bush Lincoln campus, will span 21,000 square feet and will feature 17 individual chemotherapy areas where people can receive their care in a comfortable space that allows companionship during the treatment. View our artist renditions of the interior/exterior .
$15.4M project and 21,000 feet.
$10.7M - Construction costs
$4M - Linear Accelerator
In East Central Illinois in 2013, there were four cancer cases diagnosed daily. And currently, there are more than 11,000 people living with cancer in Coles and surrounding counties.
At the Sarah Bush Lincoln Regional Cancer Center:
• 270 new cancer cases, annually
• 5,500 cancer center visits, annually
• 26% growth in medical oncology visits FY10-12
• Current volume exceeds capacity
   • 8,400 sq ft, built in 1989
   • Volume warrants 21,000 sq ft
This project has created 125 to 150 full time construction jobs with a trickle down effect of creating 200 to 240 other jobs.
Sarah Bush Lincoln Cancer Center (Mattoon, IL)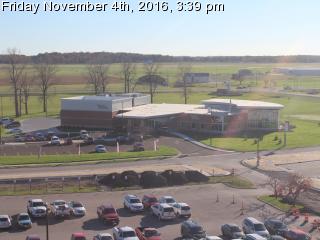 Time-lapse footage of the Regional Cancer Center construction.