Donors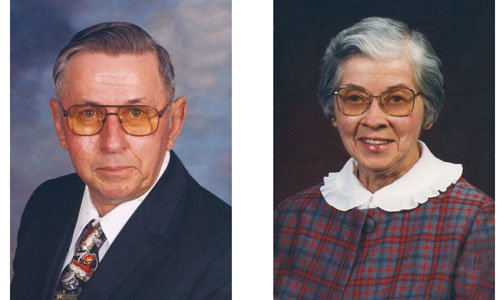 Local Family Remembers the Community in Their Will
Throughout their lives, Frank Fisher Jr., and his sister, Betty Lou Fisher, were caretakers of the land. Now they are caretakers of the community's health.
Through their will, the Fishers left their large estate valued at $3.2 million to Sarah Bush Lincoln. A farmer his entire life, Frank Fisher left the 300-acre family farm and his estate to his sister when he passed away on Nov. 3, 2010. His sister, Betty Lou, who was a registered nurse at Mattoon Memorial Hospital before she retired in 1977, left the farm in trust for the benefit of the Health Center when she died on April 6, 2011. She also left the remainder of her estate to the Health Center.
The Fishers, who were both born in Mt. Carmel, lived in Mattoon throughout their lives with neither of them ever marrying. Long-time family friend Jim Bell, whose family has farmed the land for the Fishers for more than 20 years, said the Fishers made the decision more than four decades ago while their mother was still living to give the remainder of their estate to the Health Center.
Frank was a steward of the land being one of the first to adopt parallel terrace outlets and using no-till for soil conservation long before they were widely accepted farming practices. In fact, he was recognized with the National No-Till Soybean Yield Contest in 1966 and two years later received the Goodyear Conservation Award in 1968. While Betty Lou was a registered nurse and a graduate of Deaconess School of Nursing in Evansville, Ind., her passion was farming and tending to her flowers and vegetable gardens. Today, the family farm will continue to provide Sarah Bush Lincoln with annual gifts.
Preston Smith, President of First National Bank in Mattoon, said, the bank's Trust Department will manage the farm land and the Fisher's trusted and close friends, Jim and Joyce Bell, will continue to farm it. He estimates that the land, located north of Illinois Route 121 on the Dole Road, would net between $60,000 and $80,000 a year.  Their cash assets of $500,000 were recently given to the Health Foundation.
Kim Uphoff, SBL Vice President of the Health Foundation said, "We are so honored to receive the Fisher's gift of their life's work. A portion of it will be put to excellent use in our Funding the Future campaign. Through an anonymous donor, their gift will be matched making their $500,000 gift worth $1 million." She added that an area of the Health Center on the Adult Care Unit will be named for them.
SBL President and CEO Tim Ols said, "The generosity of these fine people is amazing. They had so many options in which to leave their estate, and because Betty Lou was a registered nurse during her career, together the family chose to continue to care for the community long after they were gone from this Earth. It is a wonderful gift."
Bell, a fourth generation farmer, first met the Fishers as farming neighbors and became better acquainted with them at the grain elevator at Coles Station. "They were very kind and thoughtful people who put God in the forefront of their lives. They lived a simple life, not extravagant in anyway; actually they were quite conservative people."
He added that Frank was an activist lobbying on farm issues with elected state officials, while Betty Lou was a historian, enjoying genealogy. "Betty Lou was a sentimental person and continued the practice of attaching notes to various items describing when and from where items in their home came, which was first established by her mother," Bell said.
Bell and his son, Wyatt, are honored to continue to farm the land and be good stewards of it.
Amin Foundation Contributes to Funding the Future 
The Amin Foundation based in Corona, Calif., and led by chief trustee Dr. Chirag Amin, MD, made a $50,000 donation to Sarah Bush Lincoln's Capital Campaign, Funding the Future.
"On behalf of the Amin Foundation, it is my great pleasure to present this gift to Sarah Bush Lincoln Foundation. Growing up in Mattoon, I got to see firsthand the many ways that Sarah Bush Lincoln 
has given to the Mattoon-Charleston community. The Amin Foundation is proud to assist Sarah Bush Lincoln Health Foundation in helping to enrich the local community through providing quality healthcare, as well as through its outreach efforts," Chirag N. Amin, M.D., chief trustee, Amin Foundation, said.
The campaign will help fund the Health Center's master facility plan, which includes creating private patient rooms, expanding and renovating the ER, expanding and modernizing the Surgery Suites, and expanding and relocating the Laboratory, as well as renovating many other areas of the Health Center. The campaign also supports Healthy Communities programs aimed at reducing the obesity rate and increasing physical activity. In all, the campaign hopes to raise $8 million. For more information, contact the SBL Health Foundation at 258-2511.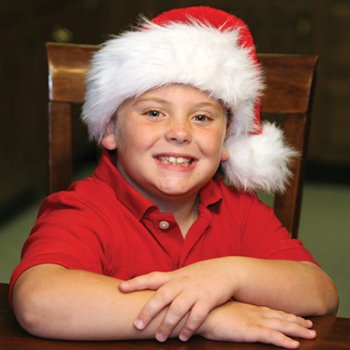 A Gift from the Heart
Seven-year-old Charlie Becker gives all he can to help people he doesn't even know. When he learned that his friend's grandma had cancer, he thought there must be something he could do. He took a portion of his weekly allowance and gave it to Sarah Bush Lincoln so the Health Center could help her get well. "I just wanted to give some money to the hospital," Charlie said. While his total donation so far amounts to $1.20, every cent is hard earned and given with the hope that he can make a difference.

His family lives by the practice of "spend, save and share." Rob and Katie Becker's other three children also participate, but they give to their own charities. Ben, 10, give to Autism Speaks; Betsy, 8, gives to the American Red Cross for domestic disaster relief; and Johnathon, 6, gives to the animal shelter to provide baths, food and toys to the dogs and cats.

Charlie's mother, Katie Becker, explained that they adopted this practice after watching a PBS program on the subject. "Each child earns a dollar a week for completing their assigned jobs around the house." Charlie must make his bed daily, put away his clothes and clean up his messes to receive the full dollar. If he does additional chores to help out, he can earn more money. Conversely, if he opts to not complete his list of jobs, money is deducted from his weekly allowance. The allowance is divided between savings, spending and sharing and is stored in containers that each child decorated.

"It gives them some independence, while they learn that if you want something, you have to earn it," Mrs. Becker said. While Charlie is saving for a big-ticket item – a XX video game – he has experienced the disappointment of not receiving his allowance on 'pay day' because he choose not to complete his jobs. "It's not much fun to not get your allowance," Charlie said, and that's incentive enough to complete his jobs each week.

Charlie took his container off the shelf and pulled out another 60 cents to donate to the Health Center, a gift from his heart.