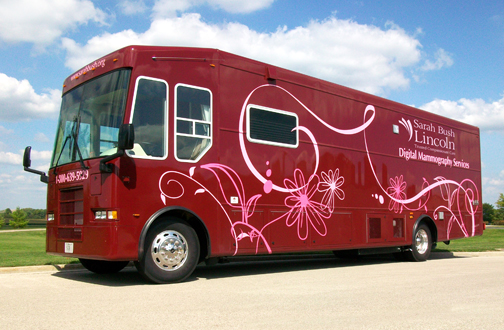 Mobile Mammography Schedule
With access being cited as one of the main reasons women don't have regular mammograms, Sarah Bush Lincoln Health Center's Mobile Mammography unit was put in place with help from BankCheck, a collaborative effort between nine area banks; the Illinois Department of Public Health, Office of Women's Health; a rural Health Initiatives Partnership Program grant from the Southern Illinois University School of Medicine; and the Susan G. Komen Foundation. Together they help to support a van which provides mammograms and cholesterol assessments. For women who have not been regularly receiving mammograms and health screens, the mobile mammography unit travels to area county health departments, businesses and SBL's outlying clinics to provide access to women living in those communities.
The mobile mammography unit travels to the following counties: Coles, Clark, Cumberland, Douglas, Edgar, Effingham, Jasper, and Moultrie.
February
5 SBL Charleston Clinic East
12 SBL Altamont Clinic
15 Coles County Health Department, Charleston 
16 SBL Arcola Clinic
17 SBL Casey Clinic
18 SBL Sullivan Clinic
19 Daisy Lane, Mattoon
22 Family Health Center of East Central Illinois, Camargo
23 Jasper County Health Department, Newton
24 SBL Toledo Clinic
26 SBL Arthur Clinic
29 Mattoon Rural King
March
1 SBL Newton Clinic
2 SBL Family Medical Center
3 Charleston Carnegie Public Library
4 SBL Charleston Family Practice
8 Clark County Health Department
10 SBL Neoga Clinic
14 SBL Casey Clinic
16 SBL Arthur Clinic
18 Charleston Rural King
22 SBL Toledo Clinic
28 SBL Arcola Clinic
29 Jasper County Health Department, Newton
31 First Bank and Trust, Marshall
April
1 SBL Charleston Clinic East
5 Cumberland County Health Department, Toledo
6 SBL Arcola Clinic
7 US Bank, Mattoon
8 SBL Altamont Clinic
12 Preferred Bank, Casey
13 First Mid Illinois Bank and Trust, Tuscola
14 SBL Sullivan Clinic
18 Williams Elementary, Mattoon 8 to 11 am
     Mattoon Middle School 12:30 to 3 pm
19 Mattoon High School 8 to 11 am
     Riddle Elementary, Mattoon 1 to 3 pm
20 Hawthorne 8:30 to 10 am
     Mattoon Administration 10:30 am to Noon
21 First Mid Illinois Bank and Trust, Charleston
22 SBL Arthur Clinic – 211 S Walnut
25 Douglas County Health Department, Tuscola
26 Jasper County Health Department, Newton
27 SBL Toledo Clinic
28 SBL Casey Clinic
Free blood screenings, at the health department locations only, if women fast after midnight (please drink water on that day). Dates and locations are subject to change.
For more information or to make an appointment for a mammogram,
call Central Scheduling at 217-258-2588 or 1-800-639-5929.