Mobile Mammography Schedule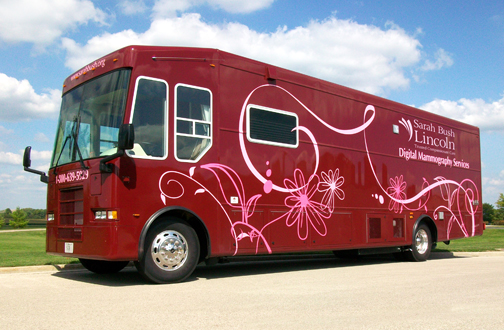 Mammography breast imaging is of particular importance in the early detection of breast cancer because it is fast, accurate and inexpensive. Sarah Bush Lincoln offers mammography on its main campus and in its mobile mammography van.
With access being cited as one of the main reasons women don't have regular mammograms, Sarah Bush Lincoln's Mobile Mammography unit was developed with help from BankCheck, a collaborative effort between nine area banks; the Illinois Department of Public Health, Office of Women's Health; a rural Health Initiatives Partnership Program grant from the Southern Illinois University School of Medicine; and the Susan G. Komen Foundation. Together they help to support a van which provides mammograms. For women who have not been regularly receiving mammograms and health screens, the mobile mammography unit travels to area county health departments, businesses and SBL's extended campus locations to provide access to women living in those communities.
The mobile mammography unit travels to the following counties: Coles, Clark, Cumberland, Douglas, Edgar, Effingham, Fayette, Jasper, and Moultrie.
10 am start time - last scheduled patient at 2:45 pm.
June
28 SBL Casey Clinic
July
3 SBL Newton Clinic
5 SBL Charleston Family Practice
11 SBL Arcola Clinic
16 Family Health Center, Camargo
18 SBL Neoga Clinic
19 SBL Toledo Clinic
23 SBL Arthur Clinic
24 SBL Casey Clinic
30 Heritage Woods, Charleston
31 Herff Jones 8 am – 901 Bobking Drive, Arcola
August
1 Jockey, Tuscola Outlet Mall    
2 SBL Charleston Clinic East
7 SBL Sullivan Clinic
8 First Bank and Trust, Marshall
13 Simonton Windows 2-6pm, Paris
14 Douglas County Health Department
15 SBL Neoga Clinic
21 SBL Toledo Clinic
23 SBL Arcola Clinic
27 SBL Tuscola Clinic
29 SBL Arthur Clinic
30 SBL Casey Clinic
Dates and locations are subject to change.
For more information or to make an appointment for a mammogram, call Central Scheduling at 217-258-2588 or 1-800-639-5929.