2019 Paint the Town 5K

Saturday, Oct. 12, 2019 • $25 • $30 Day of Race
Pre-race party kicks off at 8 am
Join us for dynamic warm-ups with trainers from the Sarah Bush Lincoln Center for Healthy Living, music and fun!
Race starts at 9 am • Course Map


Online registration cutoff: 5 pm, Thursday, Oct. 10
Registration Form (PDF)
5K Color Run to honor people who have fought cancer - Run or Walk in honor or memory of family and friends
Every participant receives a t-shirt, a swag bag full of goodies and a medal!
Race starts and ends on Broadway behind KC Summers
Parking is available in most downtown lots and on many streets within walking distance. Participants may also park in the Mattoon Area Family YMCA lot
Proceeds support Sarah Bush Lincoln's Regional Cancer Center
No bicycles or pets allowed on race route
After the race, invite your family and friends to join us for our post-race party! Food, drinks, bounce house, and lots more!
Packet Pick-up
Noon to 7 pm, Friday Oct. 11
7 am, Saturday, Oct. 12 (Day of race)
KC Summers, Nissan Building
For more information, contact:
Lori Banks, PR Specialist
lbanks@sblhs.org   |  217-258-4011
Some tips for before and after the 5K:
Hair and Clothing Care:
If you have light colored or highlighted hair, you may want to oil your hair before the race. This will help keep the color from sticking to your hair. Coconut oil or olive oil work best, but a leave-in conditioner will also do the trick. Every head of hair is different and will react differently to the color. The pink color has been known to stain blondes for a few days. Plan accordingly.
If you need to ensure color-free hair hours after the event, wear your hair in a ponytail or consider wearing a hat or bandanna. Eye-wear is also suggested during the run. 
The color will eventually wash out of just about everything, however we advise not bringing anything in which you don't want the color.
After Paint the Town:
Be sure to take a few minutes to clean up the color before entering your car or house. Dust off as much dry powder as you can before you apply any water. 
Dust any loose powder out of your hair and brush through your hair vigorously. If you applied oil or conditioner before the race, rinse it out with cold water. Wash your hair as you normally would. It is not uncommon for hints of some of the color to stick around for a few washes
Remove all excess powder from your clothes before putting in the washer. Wash your run gear separately from all of your other clothes, with cold water.  The color will not come out of white, cotton t-shirts.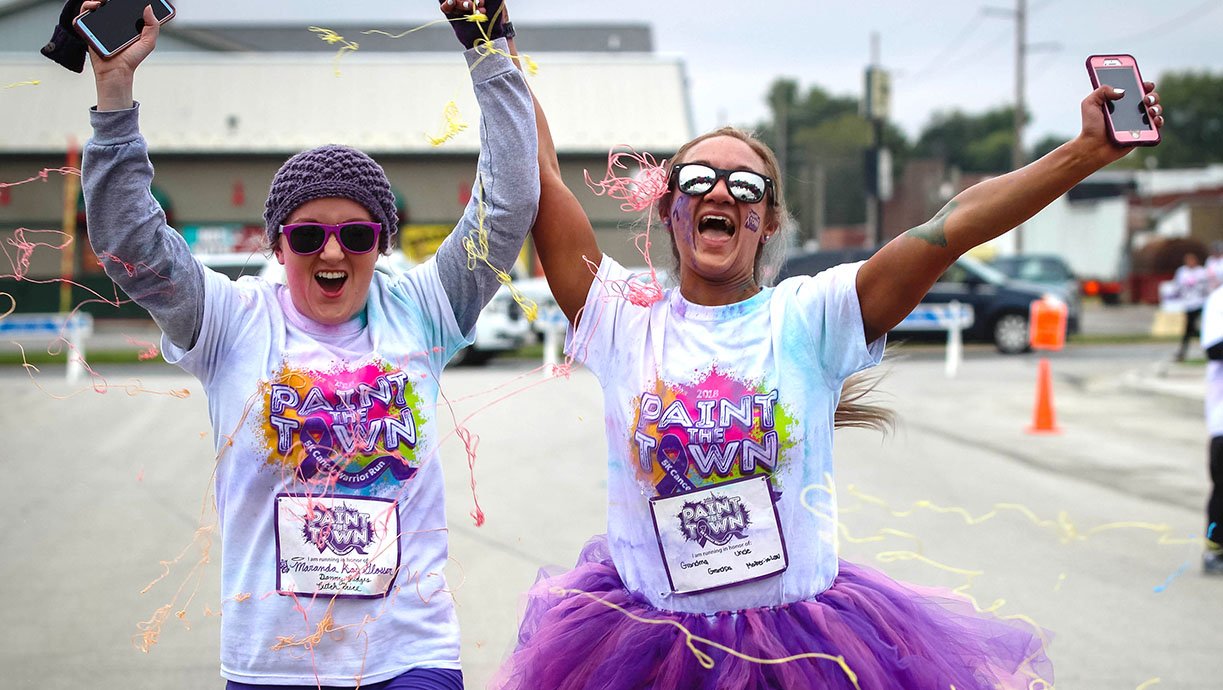 View last year's race, photobooth and post-race activities!