Kellie Jones-Monahan, MD, FACS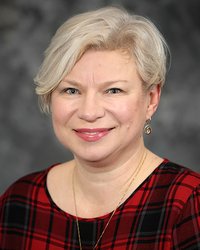 Play Video
Specialties
General Surgery, Surgery
Female
Board certification:
American Board of Surgery
Internship:
Blodgett Memorial Medical Center, Grand Rapids, MI
Medical school:
Southern Illinois University, Carbondale, IL
Residency:
Saginaw Cooperative Hospitals, Inc., Saginaw, MI
Fellowship:
Fellow of American College of Surgeons
Web site:
www.sarahbush.org/advancedwoundcenter
Health Plans:
Facilities:
Sarah Bush Lincoln Health Center
Bio
Kellie Jones-Monahan, MD, is a female general surgeon offering surgical treatment in breast disease including biopsy, both benign and cancerous, biopsy, lumpectomy, mastectomy and lymph node sampling, hernia, skin and soft tissue masses, endoscopy, and laparoscopy for gallbladder issues, hernia, colon cancer, and reflux. She also perform appendectomies, treats diverticulitis, and places and remove ports. She has been providing excellent skilled care for more than 20 years.
Offices
1000 Health Center Drive
Suite 101
Mattoon, Illinois 61938
ph: 217 258-4020
fx: 217 258-4023

vcard