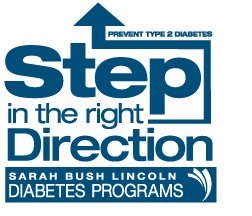 Our "Step" program is designed to help you prevent diabetes if you have an elevated blood sugar (pre-diabetes). Through this exercise and education program, modeled after our rehabilitation classes, you will work with a registered nurse and certified diabetic educator to evaluate your current health status, including food intake.
People with pre-diabetes can delay or prevent the onset of diabetes by:
• losing a modest amount of weight
• getting more physical exercise
• eating healthier
About the program
• a six-month program for people with pre-diabetes held in the Sarah Bush Lincoln Heart Center
• the program consists of supervised exercise sessions and education on risk factor modifications
• no fee (funding is through the WomenConnected initiative and support of Sarah Bush Lincoln employees)
• the program hopes to reduce the incidence of diabetes in our community
Potential Candidates
• people whose blood sugar is higher than normal, but not high enough to be diabetic
• people with severe obstructive sleep apnea
• people with family members who are diabetic
• people who are inactive and overweight
Goals
• reduce the risk of developing diabetes
• increase amount of exercise and reduce weight
Participants will also meet with a certified diabetic educator individually to help them reach their goals.
If you are interested in the program, please contact Paula Enstrom, RN and certified diabetic educator at The Heart Center at 217 238-4808.
Funded in part by WomenConnected , a women's giving circle within the SBL Health Foundation.