Tasty Tuesdays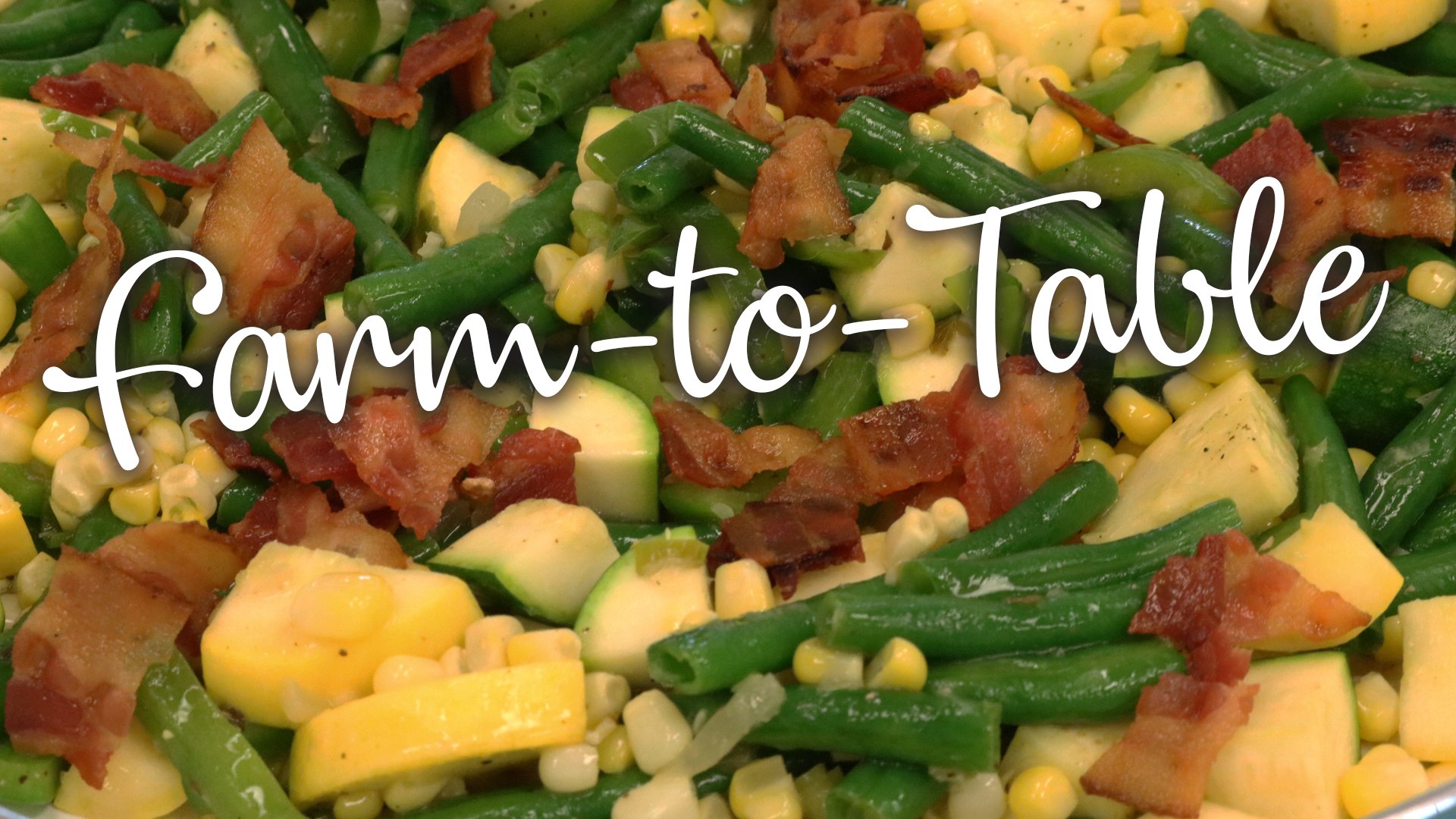 FARM-TO-TABLE
In this episode Laura cooks up delicious farm-to-table inspired recipes that use locally grown fruits and vegetables.

Penne with Asparagus and Shrimp
Print Recipe

Farm-to-Table Vegetable Stir Fry
Print Recipe

Watermelon Salsa
Print Recipe

Watermelon Sorbet
Print Recipe

Cucumber Lemon Water
Print Recipe

Farm-to-Table Video
---

BURGERS WITH A TWIST
Avocado and Spicy Mayo Burgers
Print Recipe
Spinach Burgers
Print Recipe
Turkey Burgers with Zucchini
Print Recipe
Burger Sauce
Print Recipe

Burgers with a Twist Video
---
SPRING AND SUMMER SALADS
Apple-A-Day Salad
Print Recipe

Strawberry Salad
Print Recipe

Grilled Romaine Salad
Print Recipe

Creamy Cucumber and Tomato Salad
Print Recipe
The Benefits of Greens
Print Handout

Spring and Summer Salads Video
---
VEGETABLES 6 WAYS
How to Make Vegetables 6 Ways
Print Handout

Bonus Recipe-Mexican Cauliflower Rice
Print Recipe
---
EASTER EDITION
Tomato Tulips Filled with Cheese
Print Recipe

Veggie Bars
Print Recipe
Carrots with Hummus
Print Recipe

Creamed Eggs on Toast
Print Recipe

Easy Pancake Bites
Print Recipe

No-Bake Carrot Cake Bites
Print Recipe

Creamy Carrot Soup
Print Recipe

Bonus Recipe: Resurrection Cookies
Print Recipe, part 1
Print Recipe, part 2

Easter Edition Video
---
HOLIDAY EDITION
Pretzel Rolo Turtle Treats
Print Recipe
Spinach Balls
Print Recipe
Buffalo Chicken Dip
Print Recipe
Dilly Christmas Cucumber Bites
Print Recipe
Stuffed Mushrooms
Print Recipe
Celery Reindeer
Print Recipe
---
THANKSGIVING EDITION
Turkey Cheeseball
Print recipe
Thanksgiving Leftovers Stromboli
Print recipe
Oreo Turkey Cookies
Print recipe
Creamy Wild Rice Mushroom Casserole
Print recipe
Cranberry Brie Bites
Print recipe

Thanksgiving Video
---
HALLOWEEN EDITION
Healthy Pumpkin Spice Yogurt Parfait
Print recipe
Healthy Halloween Stuffed Peppers
Print recipe

SUMMER 2020
WEEK 1 - June 16, 2020                             
Bananas

Frozen Chocolate-Banana Treats
Print recipe
Camping S'mores
Print recipe
Banana Nicecream
Print recipe
WEEK 2 - June 23, 2020
Yogurt
Yogurt Fruit Dip
Print recipe
Yogurt Ranch Dip
Print recipe
Frozen Yogurt Covered Fruit
Print recipe
Rice Cakes with Fruit
Print recipe
Yogurt Parfait
Print recipe
WEEK 3 - June 30, 2020
Pizza
Mini Fruit Pizza
Print recipe
Easy Vegetable Pizza
Print recipe
Tortilla Pizza
Print recipe
WEEK 4 - July 8
Eggstravaganza!
Chef Laura will demonstrate the many ways to cook eggs. Here are some ingredients and utensils you might want to have on hand:
• 1 - 2 doz. eggs, based on how many methods you want to try
• A few teaspoons of white vinegar
• Veggies and cheese for omelets
• Whole Wheat toast or other favorite toast to eat with the eggs
• Avocado if you like avocados
• Olive Oil or butter
• Salt & pepper
• Access to water and ice
 
Kitchen utensils:
• Frying pans
• Lids for frying pan
• Flexible Spatula
• Wisk or fork
• Bowls for breaking eggs into
• Plates for serving
• Muffin tins
• Pot for boiling water and eggs
Week 4 Video - part 1
Week 4 Video - part 2
WEEK 5 - July 14
Taco Tuesday!
Zesty Chicken & Lime Tacos
Print recipe
Guacamole
Print recipe
Fresh Salsa
Print recipe
Mexican Cauliflower Rice - Bonus Recipe!
Print recipe
WEEK 6 - July 21
Kid-friendly Snacks
WEEK 7 - July 28
Appetizers
Buffalo Chicken Tortilla Roll Ups
Print recipe
Ham & Pickle Dip
Print recipe
Cowboy Caviar
Print recipe
Goat Cheese and Marinara Crostini
Print recipe
WEEK 8 - August 4
Breakfast 
Classic Overnight Oats
Print Recipe
Whole Wheat French Toast
Print Recipe
Oven Baked Turkey Bacon
Print Recipe
Breakfast Cookies
Print Recipe
Whole Wheat Pancakes
Print Recipe
WEEK 9 - August 11
Desserts! 
Strawberry Fluff Icebox Cake
Print Recipe
Mexican Unfried Frozen Yogurt
Print Recipe
Black Bean Brownies
Print Recipe