Vaccine Appointment Status
(2.15.21) The COVID-19 vaccine clinic set for Tuesday, Feb. 16, at Sarah Bush Lincoln has been cancelled due to weather. All Tuesday appointments have been moved to Thursday, Feb. 18, at the same scheduled times.
This week nearly 900 community members are receiving their second dose of COVID-19 vaccine. Those with appointments should bring their immunization card, which they received when they received their first dose so this dose can be documented.
If you have an appointment  please come directly to the Lumpkin Family Center for Health Education, located on the north side of the Health Center. Follow the signs for Entrance C. Reserved parking is available near the entrance. Wheelchairs are also available. Please do not arrive early for your appointment.


Register for CodeRED with the Coles County Health Department to receive information via your cell phone or landline, by texting the word ColesAlerts to 99411 to be alerted to future clinics.
 
Phase 1-B
Phase 1-B includes people aged 65 and older, first responders, and those who work in education, food and agriculture, manufacturing, corrections workers and inmates, USPS workers, public transit workers, grocery store workers and staff at shelters and day cares. As more vaccines become available, additional clinics for others in Phase 1-B will be announced.
What to Bring to Appointment
Participants will be required to show a driver's license and an insurance card if they have one before the vaccine can be administered. There is no charge for the vaccination, however insurance carriers may be charged for its administration.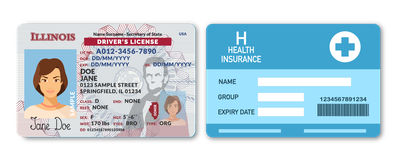 Vaccination
Participants will be required to complete a form prior to receiving the vaccine and will be required to wait about 15 minutes post vaccination to watch for any reaction to the injection. An appointment for a second dose will be made at this time. Participants will receive a vaccination card which they are required to bring back for their second dose so the dose can be recorded on it. Keep this card in a safe place as it may be needed for future travel or other purposes. The information will be uploaded into the state's I-CARE site which contains information regarding all the vaccines a resident has received.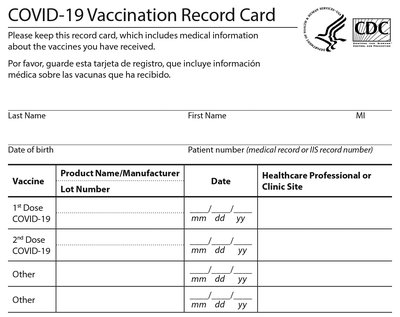 Should I get the vaccine?
Data from clinical trials indicate that mRNA COVID-19 vaccines are safe in persons with evidence of a prior SARS-CoV-2 infection. Vaccination should be offered to persons regardless of history of prior symptomatic or asymptomatic SARS-CoV-2 infection. Viral testing to assess for acute SARS-CoV-2 infection or serologic testing to assess for prior infection solely for the purposes of vaccine decision-making is not recommended.
Persons with documented acute SARS-CoV-2 infection in the preceding 90 days may delay vaccination until near the end of this period, if desired.
 
Vaccination of persons with known current SARS-CoV-2 infection should be deferred until the person has recovered from the acute illness (if the person had symptoms) and criteria have been met for them to discontinue isolation.
 
The only individuals who should not receive mRNA COVID-19 vaccines, such as the recently authorized Pfizer/BioNTech vaccine and Moderna's similar product, are those with a history of severe allergic reaction, including anaphylaxis, to components of the vaccine. For example, CDC staff highlighted polyethylene glycol, which is often used in laxatives.
 
A risk assessment and potential deferral of vaccination applies only to those with a history of these severe vaccine-related allergies or severe allergies to other injectable therapies. However, the following groups may proceed with vaccination:
Individuals with a history of food, pet, insect, venom, environmental, latex, or other allergies unrelated to vaccines or injectable therapies
History of allergy to oral medications
Non-serious allergy to vaccines or injectables
Family history of anaphylaxis
History of anaphylaxis not related to vaccines or injectable therapy
CDC clinical guidance recommends a 30-minute observation period for those with a history of severe allergic reaction, including anaphylaxis, due to any cause, and a 15-minute period for those with an allergic reaction, but not anaphylaxis.
For those with a history of severe allergies to vaccines or injectable therapies, a 30-minute observation period is recommended.