U.S. News & World Report Ranks a Program Created by HMR and Offered Here a #1 "Best Fast Weight-Loss Diet"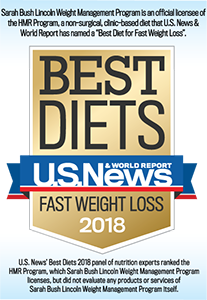 A program offered by Sarah Bush Lincoln, created by HMR Weight Management Services (HMR) was named a #1 Best Fast Weight-Loss Diet in U.S. News & World Report's Best Diets of 2018 rankings. It's the third consecutive year that HMR's simple diet and high intensity lifestyle intervention program has earned this honor.
 
"Successful weight loss is not only about losing pounds quickly, it's about creating changes around eating and physical activity that you can sustain over the long term," indicates Kristina Adams Smith, Director Medical Weight Management program at Sarah Bush Lincoln. "By keeping the plan simple, people can lose weight quickly while building the skills they need for long-term weight management."
 
How it Works
Nutritionally-complete plans are designed to simplify food decisions by using only HMR foods (shakes, entrees, cereal, and nutrition bars), with the option of unlimited fruits and vegetables on some plans. The most popular plan follows a simple structure designed to keep people feeling full all day. While losing weight, people practice developing skills in three specific areas: how to eat more fruits and vegetables, how to increase physical activity, and how to make healthier food choices.
To learn more about the program, call 217-238-4774, or email: weightmanagement@sblhs.org .