Healthy Communities
Sarah Bush Lincoln is committed to creating healthy communities. It is part of its mission and an important part of its strategic plan. That's because our country, and our community, are facing an obesity epidemic.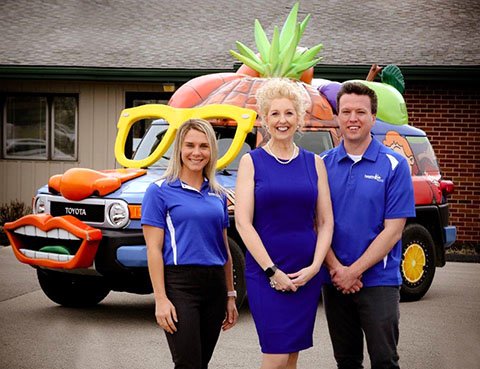 Pictured left to right: Harley Powley, Laura Bollan, Josh White
More than 9,000 kids in our seven-county community are classified as overweight or obese. That represents more than one-third of the kids. We know that when kids struggle with weight issues, they often bring those same struggles into adulthood. With that come the risk of developing diabetes, heart problems and joint issues, just to name a few. We also know that it takes generations to make substantial changes, so we are focusing our efforts on our kids.
Our Healthy Communities department has deployed several programs to help reduce the rate or obesity. Here's a snapshot of our plan.
Illinois Youth Survey Infographic 2020         Illinois Youth Survey Comparison 2020
---
2024 Upcoming Classes & Events - Registration Starting April 1, 2024
2024 Fast Reads
Fast Reads is a fitness program for boys that uniquely combines training for a 5k (3.1 mile) race with reading and nutrition education. Grades: 1-6.
2024 Fit Girls
Fit Girls is a nationally known fitness program for girls that uniquely combines training for a 5k (3.1 mile) race. Grades: 1-6.
2024 Parent & Child Cooking Class
This year's class you and your child will learn how to prepare a Mexican Fiesta Taco Bar.
2024 Races for all Paces
June 1, 2024 at O'Brien Stadium, EIU, Charleston, IL. This multi-race family fun event is held each spring.
2024 Teen Cooking Class
Your teen will learn valuable cooking & food preparation skills.
Summer Celebration - July 25, 2024
More information to come
---
5-2-1-0 Curriculum
The Healthy Kids Educators use the 5-2-1 Almost None curriculum in the classrooms they visit. Students actively participate in lessons that help to promote healthier lifestyles for themselves and their families. The core components include eating five or more servings of fruits and vegetables per day, spending no more than two hours a day in front of a screen, getting at least one hour of physical activity per day and drinking almost no sugary beverages.
KickStart
KickStart is a mobile vehicle that travels throughout the community to instill healthy habits in kids. The KickStart mobile adds a different dimension to our Healthy Kids curriculum, as it has several interactive features, such as jump ropes, sit-up bars, resistance bands and even a flat screen T.V. for additional activities. The high quality sound system also jams out music for a better exercise experience.
KidsFest
An event for children that teaches health and wellness in a fun atmosphere.
Project Fit America
We provide schools with indoor and outdoor fitness equipment and instructions to help schools create a positive physical impact on children.
Dental Services
Preventive and restorative dental care is provided to children without means to improve their health, learning, socialization and self-esteem.
Tasty Tuesdays
Video cooking classes with SBL Healthy Communities! Tons of recipes included!
Healthy Communities
102 W. Buchanan Ave.
Charleston, IL 61920
217-345-6822