Share your story

Incredible stories happen every day at Sarah Bush Lincoln. We believe these untold stories have the potential to inspire and help others and we would love to hear about your experience!
Please share your experience or story idea. This information will only be used to contact you regarding your story. We will not share or publish this information without your consent.
Feel free to attach a photo or a written document in the email.
---
No Longer Sidelined
Kurt Stretch is happy to be back in action after a hand injury nearly severed his dexterity.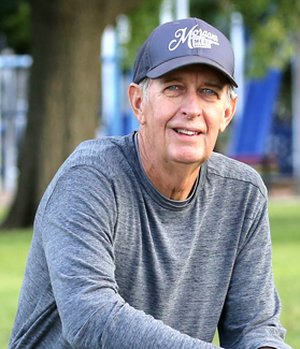 September 9, 2021, started out as other days do for Mattoon Parks Superintendent Kurt Stretch: busy.
There's mowing to do from early spring to late fall in the city's seven parks, at Dodge Grove Cemetery and at Lake Mattoon. The city's 16 baseball fields have to be dragged and lined, and there's playground equipment to repair or install throughout the summer.
On September 9, however, Kurt wasn't doing any of those jobs. He was in a bucket truck 40 feet in the air, cutting down a dead tree in Peterson Park to prepare for the holiday lights season. Kurt and his crew transform the city park into a holiday wonderland with 105 lighted displays, lighted trees and a large lighted archway that delights 25,000 visitors each year. They make Mattoon magical.
Tragedy struck, however, when a miscalculation caused Kurt to cut his own hand with the chainsaw he was operating. "The chainsaw was running, and I moved it from my right hand to my left so I could hold onto a branch. I shouldn't have done that. The saw jumped off the branch and hit my right hand, tearing a five-inch gash in the top of my right hand," Kurt said, running his finger over the scar. "Blood was spurting out, and I was trying to operate the bucket controls to get down, but it was difficult because I had limited use of my hand."
A member of the summer work crew was on the ground, but he did not know how to operate the controls. Desperate to get help, Kurt jumped out of the bucket when it was about eight feet off the ground. Kurt recounted, "I asked my guy if he could drive me to the hospital without passing out." While Kurt's clothes were blood-soaked, he did not have any pain since the chainsaw had cut through his nerves and all of the tendons in his hand. Once Kurt was stabilized in the Sarah Bush Lincoln Emergency Room, medical staff referred him to Hand Surgeon Lisa Sasso, MD, at SBL Southern Illinois Hand Center in Effingham.
Because Kurt's tendons were severed, his thumb turned toward his palm. "I thought that because I didn't have any pain, then I wouldn't have use of my hand any longer— that I might even lose part of it. I thought I wouldn't be able to play tennis, golf or go bowling anymore— even fishing. You really need your thumb for so much," he said. "But Dr. Sasso came into the room and said, 'I can fix this, and you'll be as good as new.' She was so positive and had so much confidence that it made me feel better immediately."
Surgery was scheduled for the next day at the Effingham Ambulatory Surgery Center. "What I really liked about Dr. Sasso is that she took the time to visit with me, to find out what sort of activities I wanted to be able to do again – what my goals were," he said.
Kurt's tendons were reattached and the hand tissue was cleaned up; the surgery went well! Kurt began to heal. Meanwhile, with a tight schedule to get the annual holiday displays set up, he called for help from all of his staff. While Kurt could not do the work himself, he coached from the sidelines to ensure everything was perfect.
Kurt completed 20 sessions of occupational therapy with Tasha Mauzy at Sarah Bush Lincoln. "Tasha was great and helped me regain mobility in my hand. She took me as far as I could go," he said. Dr. Sasso, however, was not satisfied with Kurt's range of motion, so in December of 2021, she said, "I think we can do better."
"Dr. Sasso is not fast to jump into surgery; I like that about her. But she is a perfectionist, so she suggested a second surgery to move a tendon from further in my arm to my hand for greater flexibility and agility," he said. The two decided to schedule surgery in January so Kurt could help dismantle and store the holiday lights for the next season. This holiday season, he received extra help from Lake Land College baseball team members.
"I cannot say enough about Dr. Sasso's passion for making everything right again. She takes the time to talk with patients and explain everything that will happen. She didn't release me for a year. It takes time for things to heal on the inside, and I still do the hand exercises that Tasha gave me," Kurt said, while reaching for one of the strengthening devices on his desk. "My hand is not 100 percent, but…I remind myself that it could have been much worse. Life goes on; you just adapt to it."
For more information or to make an appointment with Dr. Sasso or one of her associates, Hand Surgeons Nash Naam, MD, and Patrick Stewart, MD, call the SBL Southern Illinois Hand Center at 217 347-3003.