Share your story

Incredible stories happen every day at Sarah Bush Lincoln. We believe these untold stories have the potential to inspire and help others and we would love to hear about your experience!
Please share your experience or story idea. This information will only be used to contact you regarding your story. We will not share or publish this information without your consent.
Feel free to attach a photo or a written document in the email.
---
Daily Dose of Exercise Endorphins
Single mother of three loses 50 pounds through medical exercise program.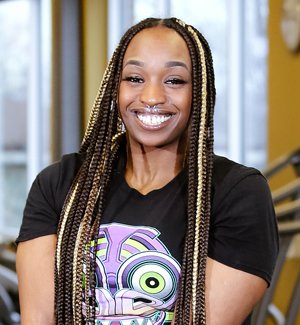 Marshae Young had an active lifestyle growing up, when she took weight lifting classes in high school and was a cheerleader. Her life changed dramatically in 2014, however, when the birth of her first child meant Marshae had limited free time, and her focus turned away from exercise. It wasn't long before Marshae's sedentary lifestyle caught up with her, and she began experiencing debilitating back pain.
At just 28 years of age, Marshae was diagnosed with a herniated disk, a condition in which the soft, jelly-like center of a spinal disk pushes through a crack in the tough exterior casing of the spine, causing pain, numbness and weakness.
When the pain grew unbearable, Marshae sought care at the SBL Center for Interventional Pain, where she was prescribed biannual epidural shots to manage her pain— an alternative to addictive prescription medications.
Interventional Pain Specialist Ragai Mitri, MD, explained that excess weight and inactivity can contribute to the prolonged effects of herniated disks. "Lack of movement caused my weight gain, which caused my back pain. So I needed to lose weight to improve, but I had limited knowledge about how to properly work out," Marshae recalled. "It felt like the two things were moving against each other."
Dr. Mitri suggested that Marshae try the four-month medical exercise program offered by the Center for Healthy Living. The WomenConnected charitable giving group gifted her access to the program at a reduced cost. Marshae felt nervous at the beginning of the program, but Exercise Specialist Melissa Pruemer put her at ease. "She made the gym feel like a comfortable place for me," Marshae said. "Melissa made training fun, and I started to see results early on." Before joining the Center for Healthy Living training program, Marshae had gone to gyms and had worked on any machines that she saw. By contrast, trainers at the Center for Healthy Living gave her the knowledge to structure workouts into sessions that focus on cardio health, the legs, arms and abdomen. "With my back injury, it's so important for me to have correct form, and I didn't have that before. Now I try to always watch myself in the studio room mirrors when I train alone," Marshae remarked.
As a single mother of three young children, she has precious little time to exercise, but she makes it a priority by waking up at 4 am nearly every morning. She has found that consistent exercise helps her mental health, too.
For more information on the Center for Healthy Living medical execise program, call 217 238-3488.