Share your story

Incredible stories happen every day at Sarah Bush Lincoln. We believe these untold stories have the potential to inspire and help others and we would love to hear about your experience!
Please share your experience or story idea. This information will only be used to contact you regarding your story. We will not share or publish this information without your consent.
Feel free to attach a photo or a written document in the email.
---
A Handy Connection
After years of sending employees to Hand Surgeon Nash Naam, MD, Brad Hastings knew where to go for his hand troubles.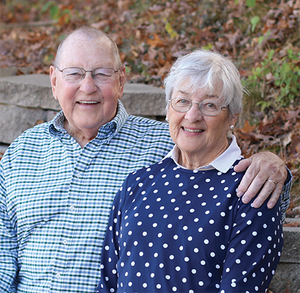 As a former human resources manager for a Champaign manufacturing company, Brad Hastings often sent his employees to see Hand Surgeon Nash Naam, MD, in Effingham for carpel tunnel issues and hand injuries; he wanted only the best for his employees. 
"I knew of Dr. Naam's reputation, but I had never met him," Brad said. "My employees were very happy with their outcomes and often said what a remarkable surgeon he was. I was happy about the care because they felt better and recovered." 
Long before retirement, Brad and his wife, Jonell, bought an 800-square-foot cabin on Lake Sara in 1982. The first thing they did was built on a sunroom so they could enjoy the view of the lake. But when they retired in 2006, they tore down the cabin and built their "forever" home, complete with a four-season room overlooking the lake, plus a boathouse. Their bliss was tooling around the lake on their pontoon boat several times a week. 
Retirement brought Brad another gift too: being reconnected with Dr. Naam. As his patient, Brad learned first-hand why others raved so much about him. "Dr. Naam doesn't walk on water, but it's pretty close. His diagnostic and surgery skills are beyond compare," Brad explained. 
Now 83 years old, Brad has had quite a few surgeries over the years: three back surgeries, two hips, a shoulder surgery— and several surgeries by Dr. Naam. Brad always seeks out the best possible surgeons for his conditions. "So when I say this man is competent and patient-oriented, I mean he's right up there with the best of the best!" 
Fifteen years ago, Brad became a patient of Dr. Naam's at the SBL Southern Illinois Hand Center, and now they call each other friends. "I had some fingers that didn't work quite right. He released the locked trigger fingers and I was able to return to the things I love doing, like woodworking, fishing and activities of daily living like typing and driving." 
Another time, Brad was suffering from pain in his thumb and, after X-rays were taken, Dr. Naam said he could fix the pain by removing a bone that Brad didn't need. He regained dexterity through occupational therapy at the Southern Illinois Hand Center. Brad suffers from osteoarthritis and believes it may be the link to his hand and finger issues. 
"I found that I was making adjustments to many routine activities, like gripping the steering wheel, holding a pen, typing and cooking," he explained. Since the first procedure, Dr. Naam has also performed carpel tunnel surgery on both of Brad's hands, and he repaired additional trigger finger releases. 
Brad and Jonell sing the praises of Dr. Naam. "He's such a competent individual, and once you talk with him, you become completely comfortable with him and trust his knowledge and skill level. He's passionate about his work and compassionate with his patients. He doesn't hurt you either," Brad said. "He's a doctor and a surgeon, and he has a sense of humor. That's a great combination."
For more information or to make an appointment with Dr. Naam or one of his associates, Hand Surgeons Lisa Sasso, MD, and Patrick Stewart, MD, call the SBL Southern Illinois Hand Center at 217 347-3003.