Physical & Occupational Therapy 
Our staff of therapy professionals is available for comprehensive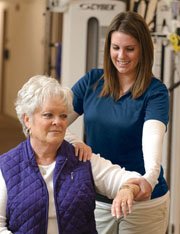 assessments and is proficient in meeting all your needs.
Physical and occupational therapists work in tandem with your doctor to assist you in your recovery and transition back into your lifestyle and to your workplaces.
The office, adjacent to Orthopedics & Sports Medicine  located in Prairie Pavilion 2, is filled with state-of-the-art rehabilitation equipment and staffed with certified therapists who tailor rehabilitation programs to better achieve the patient's needs.
A special gym has been developed that is better suited for infants and children to help them develop gross and fine-motor skills. Two other spacious gyms are used for therapy services as well. Additionally, the center offers a therapy pool with a lift chair and treadmill.
For the convenience of our patients, full physical and occupational therapy services are available at our clinics in Casey, Sullivan and Arthur.
Massage Therapy services are provided in this office as well.
For more information, call Physical Medicine and Rehabilitation at (217) 258-2530. 
Home exercise booklet - Linconland Home Care Physical Medicine and Rehabilitation.