Physical & Occupational Therapy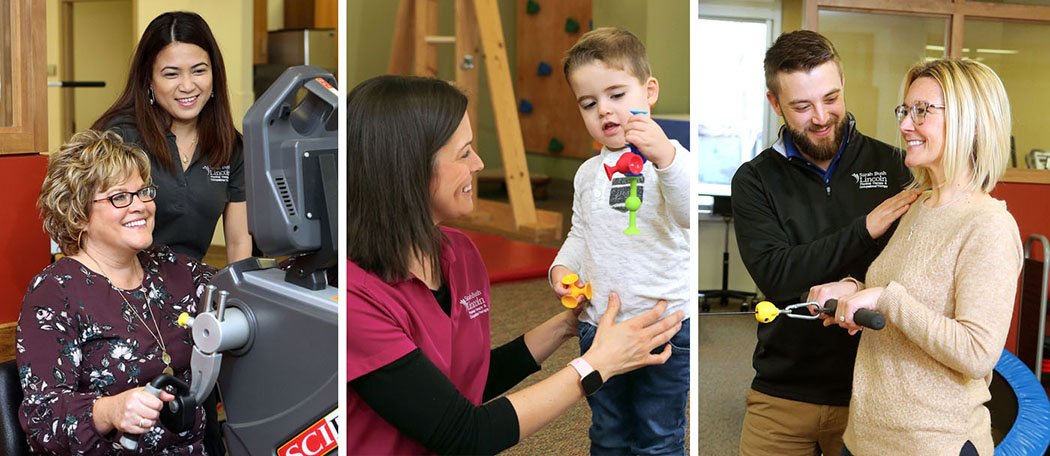 Our physical and occupational therapy departments are dedicated to providing exceptional care to all. We strive for each person to have a successful and meaningful therapy experience with us. We look forward to serving you and assisting you on your road to recovery.
Physical and occupational therapists work in tandem with your doctor to assist you in your recovery and transition back into your lifestyle and to your workplaces.
Successful Recovery
Out outpatient therapy departments help people recovering from orthopedic, occupational, sports and neurologic injuries/ disorders and other medical conditions. The goal of therapy is to help individuals regain their mobility, independence and ability to perform their daily tasks.
Physical and occupational therapy focus on regaining strength, reducing pain, increasing functional mobility/range of motion, and promoting physical well being. Your therapist will complete a thorough evaluation and develop a plan of care to guide your treatment. We focus on individualized, one-on-one care based on your therapy needs. We work closely with your referring medical provider to maximize your therapy outcomes.
What We Offer
Our comprehensive services are provided by highly trained physical and occupational therapists covering a wide range of services including, but not limited to:
Aquatic Therapy
Ergonomic Assessment
Functional Capacity Evaluations
Hand Therapy
Lymphedema Therapy
Neurological Care (post CVA, spinal cord injury)
Pediatric Therapy
Post-operative Care
Pre-employment Screens
Sports Therapy
Wheelchair Clinic
Work Conditioning
Work-site Job Analysis
Women's Health
Who Can Benefit
People with work-related injuries
People who have experienced strokes, head or spinal injuries
People who have been injured in falls or other accidents
People with broken bones
People who have had amputations
People with multiple sclerosis, arthritis, cerebral palsy, Parkinson's disease, vertigo, post-polio syndrome and other diseases or disorders
Athletes with sports injuries
People with over-use injuries
People who need post-operative rehabilitation
Massage Therapy services are provided in this office as well.
Sarah Bush Lincoln
Prairie Pavilion 2
1004 Health Center Drive • Mattoon, IL
217-258-2530
Altamont Physical and Occupational Therapy
15 North Main Street • Altamont, IL
618-881-0920
Arthur Physical and Occupational Therapy
 211 S. Walnut • Arthur, IL
217-543-3439
Effingham Physical and Occupational Therapy
SBL Bonutti Clinic
1303 West Evergreen Ave., Suite 103 •  Effingham, IL
217-342-3444
Casey Physical and Occupational Therapy
934 North Rt. 49 • Casey, IL
217-932-2668
Sullivan Physical Therapy
7 Hawthorne Lane • Sullivan, IL
217-728-8168