COVID-19 Updates & Information
Jerry Esker Community Update (10/26/20)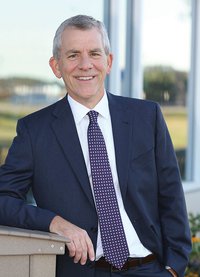 As winter approaches and COVID-19 infections are surging locally as well as throughout our region, we are making changes to our processes and our specimen collection locations for COVID-19 testing.
The Drive-Thru COVID-19 garage located on the east side of the SBL campus will close at noon on Saturday, Oct. 31.
Pre-surgical/Pre-procedural
On November 2, COVID-19 testing for those who need a test prior to a procedure or surgery will receive the test inside the new SBL Surgery Center on SBL campus (1007 Health Center Drive) which is directly south of the current location. Those seeking tests prior to a procedure will be registered by their provider and given an appointment time. They will be screened when entering the building.
For information about pre-procedural testing, call The Surgery Center at 217 258-7400.
Respiratory Clinic
The Mattoon Walk-In Clinic will become a walk-in Respiratory Clinic on Nov. 2 seeing people with COVID-19 symptoms, Influenza A & B, RSV, breathing issues, etc. People with symptoms will be seen by a medical provider and can be tested for respiratory illnesses at this clinic. The Respiratory Clinic, located at 200 Dettro Drive, Mattoon, is open from 7 am to 7 pm, Monday through Friday and 8 am to 3 pm on Saturday and Sunday. The Respiratory Clinic does not treat children under 3 months old, or treat anyone under 6 months old for RSV.
Community COVID-19
Community COVID-19 testing will also be available from 8 am to 4 pm, Monday through Friday by appointment at the Respiratory Clinic (200 Dettro Drive, Mattoon). This is a change from our previous process. The appointments are necessary to help manage the number of people coming to the clinic at one time for the test. A portion of the lobby has been partitioned for this purpose.
Those seeking tests will call 217 258-7490 to pre-register and get an appointment time. There are no out-of-pocket costs, and they will not see a provider. Upon arrival, the staff will screen them and will ask for an insurance card or driver's license to verify the information before a test is performed.
People with general illnesses, sprains, wounds and other medical issues are asked to seek care at their primary care provider's office or at the SBL Walk-In clinics in Charleston, Tuscola, and Effingham.
For more information about COVID-19 community testing and the Respiratory Clinic, call the Respiratory Clinic at 217 238-3000.
Results
We will continue to call those who have positive results, while those who are negative results will be sent in the US Mail, and the results will be posted to the SBL Patient Portal. If you don't have a patient portal, you can register at this link - https://www.sarahbush.org/patient-portal/ If requested at the time of specimen collection, results can be sent to your provider's office.
Testing
We were so fortunate to bring all the COVID-19 testing into our own laboratory in early October. The Lab staff has done an amazing amount of work to make this happen. It has worked with the Governor's office to help secure the appropriate high volume COVID-19 testing equipment and it has developed processes to ensure the results are accurate. We have the capacity to perform 800 tests in eight hours, providing us with ample availability. Results are available in 48 hours, and sometimes in less time depending on when the specimen reaches the Lab for processing.
The staff has also secured several other testing devices to use when diagnoses are urgently needed. We have the equipment to run rapid-response tests, but during this pandemic testing supplies are limited and can be difficult to find.
Since March, our Lab has processed 43,000 specimens for COVID-19 testing. The staff has out-performed itself!
Hospital Capacity
In the last several days the beds in Sarah Bush Lincoln have been mostly full. Our patients have a wide variety of health concerns, which is not that unusual, especially this time of year. But what is alarming is that just recently, there were 24 people hospitalized at Sarah Bush Lincoln with COVID-19.
I understand that people have COVID-19 fatigue, but I am asking our community to do what it can to curb the spread of the illness. Scientists predict a greater spread of COVID-19 this fall and winter. Locally, many schools are opening their doors again, and outdoor gatherings will surely move indoors. Please wear a mask and social distance. The holidays are coming up – a time when we traditionally get together with families. COVID-19 does not discriminate. Please take precautions to ensure your health when sharing time with family.
We are prepared to care for the health of the community and we are honored to do so. In closing, I am asking you to get a flu vaccine this year, wear a mask and social distance. Our greatest hope is that a safe vaccine will be available in the coming months so we can return to doing our favorite things. This is a very fluid situation. Our promise to the community is that we will continue to be transparent about how we are handling the pandemic locally and provide information as it becomes available.
Stay Healthy,
Jerry Esker
SBL President & CEO
Read previous messages from Jerry Esker
Below are links to up-to-date information, our 24/7 Hotline, and the SBL Virtual MD
---
Español   
Para ver estas páginas en Español, desplácese hasta la parte inferior derecha de la página y cambie SELECCIONAR IDIOMA a Español.
---


We encourage you to use our Virtual MD app so you can talk with a doctor from the safety of your home. Click here for instructions on how to create an account before you become ill.
We will be updating this site daily and sharing information on social media.