Jerry Esker Community Update
 (07/26/21)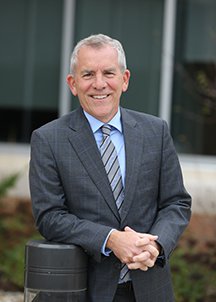 In mid-July, we had zero patients with COVID-19 in the hospital. That was indeed a noteworthy day. Today we are back up to five hospitalized patients with the virus as news outlets are reporting the rapid spread of the Delta variant.
Pfizer Vaccine
Beginning August 2, Sarah Bush Lincoln is offering Pfizer vaccines at the Mattoon Walk-In Clinic at 200 Dettro Drive, Mattoon, and Charleston Walk-In Clinic at 2040 Lincoln Ave., Charleston during regular clinic hours (8 am to 7 pm, Monday through Friday, and 8 am to 3 pm, Saturday and Sunday.) No appointment is necessary.
The Pfizer vaccine is intended for people ages 12 and older and is available at no cost to you. It is a two-injection vaccine spread about 21 days apart. The second vaccine will be administered in our Special Procedures department in the Health Center. Enter through Entrance F and take Elevator F to the second floor. You will receive more information during your first vaccine.
Delta Variant
As the virus circulates through a population and infects people, it often mutates. The more opportunities a virus has to spread, the more it replicates – and the more opportunities it has to undergo changes. As it changes, its properties may change. For instance, with the new Delta variant, it spreads more easily than other variants.
According to the World Health Organization, it is 50 to 60 percent more transmissible than the Alpha variant, which was already 50 percent more transmissible than the original strain. There is some indication that the Delta variant may result in more severe disease.
Luckily about 76 percent of older people in our area received the vaccine and can rest easier knowing they are largely protected against COVID-19. All the vaccines on the market protect against the various strains of COVID-19.
Before school starts, before the cold weather returns, before the hospital has to restrict visitors again, and before businesses feel the brunt of another round of this pandemic, please, if you are not vaccinated, get a vaccine.
Preparations
Already, our Facilities Services staff is building temporary negative pressure rooms again. Last year the staff built 50 temporary rooms and when COVID-19 subsided, they were dismantled. It was a great day and I know the caregivers on the nursing units breathed a sigh of relief when the walls came down.
Our staff has held the hands of way too many people as they succumb to COVID. It was an emotionally exhausting year for our caregivers and community, and we want to do everything possible to minimize the spread of this disease.
Please get a vaccine. It is so easy to do. You can come to our Charleston or Mattoon Walk-In Clinics, public health departments, Walmart, Walgreen, CVS and other pharmacies. Check this site to find a location near you: https://www.vaccines.gov/search/?zipcode=61938&medications=779bfe52-0dd8-4023-a183-457eb100fccc&radius=25&availableAppointmentsOnly=false
Stay Healthy,
Jerry Esker
SBL President & CEO
Read previous messages from Jerry Esker
Below are links to up-to-date information, our 24/7 Hotline, and the SBL Virtual MD
---


We encourage you to use our Virtual MD app so you can talk with a doctor from the safety of your home. Click here for instructions on how to create an account before you become ill.
We will be updating this site daily and sharing information on social media.