COVID-19 Updates & Information
A message from our President & CEO, Jerry Esker (7/30/20)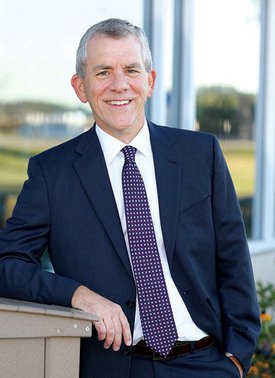 Every day we are required to submit data to the Department of Health and Human Services (HHS) and the Illinois Department of Public Health regarding COVID-19 and a variety of other health-related items.
While we experienced some of the lowest COVID-19 transmission rates in early July, our local rates are rising. The Illinois Department of Public Health has divided the state into smaller regions to better reflect the area. We are in Region 6, which stretches from Iroquois County in the north to Clay County in the south and from Macon County to the west to the Indiana border. 
The state measures the transmission level of the virus in terms of a rolling seven-day positivity rate. On average, our rate is around 5 percent. That number is higher than the positivity rate found across the rest of Region 6, and is higher than the state-wide rate. This week, nine people with COVID-19 were ill enough to be hospitalized. It's a reminder that COVID-19 is spreading in our community. 
When we talk with people who have the virus and ask about their whereabout for tracing purposes, they often say they are very cautious and wear masks when they go to the store. Then they mention that they were with family and friends. People naturally put their guards down among people they know and love. Even in healthcare where we know how real this pandemic is, we remind our employees that wearing a mask, washing hands and social distancing are the three best things we can do to mitigate the virus and stay healthy.
Community Testing
In all, we have collected more than 19,000 specimens. Since early July, community testing has surged evidenced by the vehicles that are backed up from our COVID-19 collection garage to the Loxa Road on the east side of our campus. We're asking our patients and guests to use alternative entrances to avoid getting in a line of traffic. Additionally, we are changing collection days and times to provide better service.
For people being tested prior to surgery or a procedure, they are being scheduled from
7 am to noon on Monday, Tuesday, Friday and Saturday.
For community members who are seeking a test, they will continue to pre-register by calling 217 258-7490. New testing times are from 1 to 6 pm, Monday through Friday. 
There are no out of pocket costs for the test as it is covered by insurance and the Cares Act.
Results
We outsource the testing to a lab with high-volume capabilities. Like many others across the nation, it has been overwhelmed with the volume of tests. We have found alternative labs to send our community testing specimens, but unfortunately, the turnaround time can be from two to 10 days. We will continue to call those who are positive, while those who are negative will receive their results in the US Mail, and the results will be posted to the SBL Patient Portal. If you don't have a patient portal, you can register here.
This is a very fluid situation. Every day, scientists learn new things about COVID-19-- how it is transmitted, how to treat it, and how to protect ourselves. We follow the CDC and IDPH guidelines and they change as new information is available. Our promise to the community is that we will continue to be transparent about how we are handling the pandemic locally and provide information as it becomes available.
Stay Healthy,
Jerry
Read previous messages from Jerry Esker
Below are links to up-to-date information, our 24/7 Hotline, and the SBL Virtual MD
---
Español   
Para ver estas páginas en Español, desplácese hasta la parte inferior derecha de la página y cambie SELECCIONAR IDIOMA a Español.
---


We encourage you to use our Virtual MD app so you can talk with a doctor from the safety of your home. Click here for instructions on how to create an account before you become ill.
We will be updating this site daily and sharing information on social media.