COVID-19 Updates & Information
A message from our President & CEO, Jerry Esker (5/29/20)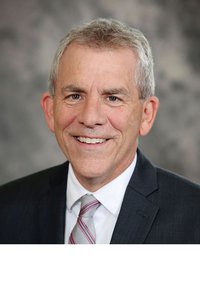 When we first began hearing about Coronavirus and COVID-19, we really had no idea how it would impact our work lives. There aren't holidays in healthcare. Illnesses and injuries happen every day and around the clock. We're accustomed to working through special occasions, family gatherings and inclement weather. We're always open and ready for what life throws our way.
This has been one of our more challenging times, at least in my career. One of Sarah Bush Lincoln's greatest assets is that it is an independent organization and nimble. Decisions are made locally and we can implement changes rather quickly. In the last two and a half months, we quickly created a Respiratory Clinic in an effort to consolidate all the testing to one location; redesigned reception areas to create social distancing; reassigned staff to check the health of people at our doors, and began manufacturing our own personal protective equipment. Our staff has made more than 6,000 gowns and masks for us and our patients to use. It has helped relieve the stress on the supply chain.
Now, we are welcoming back many of the 500-plus employees who were furloughed and those who worked shortened weeks. This is only happening because you trust us with your care and have returned to address your healthcare issues. We have seen a downward trend in the number of COVID-19 cases locally, outside of the outbreak at Charleston Rehabilitation and Healthcare Center. We continue to pray for the residents, employees and their families.
We continue to use all the safety practices recommended by the CDC and the Illinois Department of Public Health in all of our facilities. All high-touch surfaces are cleaned hourly with cleaning agents that destroy germs and viruses. Employees monitor their own health daily, and everyone wears a mask. This is one of the safest places you can be!
Mattoon Walk-In Clinic will reopen on Monday, June 1, to treat illnesses and injuries. The Respiratory Clinic at this location closes on Sunday as the need has declined over recent weeks.
Scheduled surgeries and procedures began again on May 11. We continue to monitor our bed capacity to ensure we have ample space should a need arise.
COVID-19 community testing opened on May 11 and has gone very well. In less than a month, more than 1,200 people were tested. There have been 42 positive test results found through the drive-thru collections.
On June 8, we are consolidating the COVID-19 collection site for pre-surgical testing and the community testing site to the east parking lot of the Center for Healthy Living. Surgical patients will be pre-registered through Pre-Anesthesia Testing, while others seeking testing may call 217 258-7490. There is no out-of-pocket cost for this test. On June 8, the hours of this collection site are changing to 8 am to 4:30 pm, Monday, Tuesday and Friday; and 7 am to noon on Saturday.
Sleep Disorders Center will reopen on June 1 for people who are having home studies and in-lab sleep studies. All studies will be completed in the lab on the Sarah Bush Lincoln campus, Prairie Pavilion 1. The Effingham and Casey locations will reopen at a later date. People having an in-lab study will be tested for COVID-19 within 72 hours of their test. Initially, in-lab sleep studies will be performed on Tuesday, Wednesday and Thursday nights, while home studies can still be picked up Monday through Friday.
Center for Healthy Living reopens on June 1 for people in the 120-day medically monitored exercise program and those people using personal trainers. The facility will open to its general membership at a later date.
The Heart Center
The Heart Center services are opening on June 1 as well, except for METS classes. We hope to open those classes in the coming weeks.
Extended Campus Locations
Many of our extended campus locations are returning to their regular hours throughout June.
Curbside Services
Prairie Medical Pharmacy and Lincolnland Home Medical Equipment in Mattoon, Effingham and now Vandalia, continue to offer curbside services. For Prairie Medical Pharmacy, please drive under the canopy at Entrance F (westside of the Health Center) and call 217 217-238-6270 in advance. Upon arrival, your prescriptions will be delivered to your car at the canopied entrance.
Lincolnland Home Medical Equipment's showroom re-opens on June 1. Visitors must wear a mask. Curbside service continues to be available for select items. For the Mattoon store, please call 217 235-0660; for the Effingham store, please call 217 347-7372; for the new Vandalia store, please call 618 699-4502.
We will continue to update the website as things change. Please check the "Daily Updates"  section for current information.  
This has been a formidable time, but because of the care, kindness and generosity of our community, it has made this challenging time a bit easier. Thank you for your concern, prayers and well wishes.

Stay Healthy,
Jerry
Read previous messages from Jerry Esker
Below are links to up-to-date information, our 24/7 Hotline, and the SBL Virtual MD
---
Español   
Para ver estas páginas en Español, desplácese hasta la parte inferior derecha de la página y cambie SELECCIONAR IDIOMA a Español.
---
The 24/7 Hotline is ONLY for COVID-19-related questions.


We encourage you to use our Virtual MD app so you can talk with a doctor from the safety of your home. Click here for instructions on how to create an account before you become ill.
We will be updating this site daily and sharing information on social media.