Jerry Esker Community Update
 (03/07/22)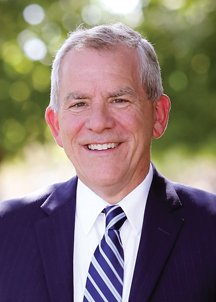 Today is a day to celebrate. This morning there were only four people with COVID-19 hospitalized, none in the Critical Care Unit, none on a ventilator, and just one person in the COVID @ Home program. As the numbers decreased over the last two weeks, the staff breathed a collective sigh of relief and they walked the halls light on their feet with a smile on their faces (behind their masks). It is a day we have been working toward, praying for and anticipating for almost two years.
Our surge is over and the internal disaster activities have ended, at least for now, and we are going about our daily work. Fingers crossed that I didn't just jinx us. Visitors are welcome in our facilities, yet they still must wear a surgical mask (not cloth) in all healthcare settings. We have returned to our regular visitor policy.
A little more than a month ago, it was a dark day for our community. There were 46 people hospitalized with COVID-19. Six of the 13 people in the Critical Care Unit had COVID. Many were on ventilators. That particular morning there were 17 people waiting for a room while being cared for in the Cath Lab, Recovery bays and in a former care unit. Another 27 people were being cared for in our COVID @ Home program. Our resources were stretched thin.
We asked our staff to work extra shifts, and we placed non-clinical staff in support roles. It was a true 'community' effort. I have never been prouder of our employees who worked tirelessly throughout the pandemic.
We've been on the verge of almost no COVID-19 patients before. A year ago, we had similar numbers and hoped and prayed the pandemic would stay a bay. We weren't as fortunate. We have learned a great deal working through a pandemic. And I suspect that in years to come, scientists will continue to learn from this.
We have returned to our normal work and schedules. During the surge, we postponed elective surgeries that required hospitalizations, because we simply didn't have the available bed space or staff to appropriately care of these patients. We do now, and we are grateful for the understanding. 
While we pray we'll never have to live through something like this again, we are positioning ourselves with additional bed space so we can continue to grow and meet the medical needs of the community. In April, we will begin a major construction project to enlarge our Critical Care Unit (CCU) from nine beds to 14; and build a 15-bed step-down unit adjacent to the CCU. This 18-month project will displace the CCU to the second floor. We will have appropriate signage throughout so our guests can find their destinations, and of course, our staff is happy to escort you as well.
As I close, I want to express my sincerest gratitude to our community for caring for our staff in so many ways – cards, words of support, delicious meals, supplies and so much more that nourished our souls — and for allowing us to care for you. I am humbled by the work of our staff and so proud to be a part of Sarah Bush Lincoln.
Stay Well,
Jerry Esker
SBL President & CEO
Read previous messages from Jerry Esker
Below are links to up-to-date information, daily updates and more