COVID INFORMATION
Hospitalized Patients
October 26, 2021
Today there are 12 COVID-19 patients hospitalized at SBL, one in the Critical Care Unit. Four people are being monitored in the COVID @ Home program.
Vaccines
FDA-approved Pfizer-BioNTech vaccines (first, second and booster doses) are available from 7 am to 7 pm, Monday through Friday, and 8 am to 3 pm, Saturday and Sunday at the Mattoon Walk-in Clinic, located at 200 Dettro Drive, Mattoon; and the Charleston Walk-In Clinic, located at 2040 Lincoln Ave. East, Charleston. No appointment is necessary. It must be at least six months since the second dose of Pfizer to receive the booster. Please bring your vaccination card.
The SBL Effingham Walk-In Clinic offers Pfizer vaccines (first, second and booster doses) to anyone age 12 and older by appointment. Vaccine appointments are available on Thursdays from 1 to 7 pm. It must be at least six months since the second dose of Pfizer to receive a booster. To schedule, call 217 540-6123 from 10 am to 8 pm, Monday through Friday.
Testing
COVID-19 testing is available by appointment only at the Mattoon Walk-In Clinic. Call 217 258-7490. Due to high volumes, COVID-19 test results are available in 36-72 hours.
To learn more about your county's positivity rate, go to http://www.dph.illinois.gov/regionmetrics
Locating Your Covid-19 Test Results
Your COVID-19 test results will appear on your SBL Patient Portal as soon as they are available. Click on "Health Record" and scroll to the last entry "Covid:19 Results."
See illustration.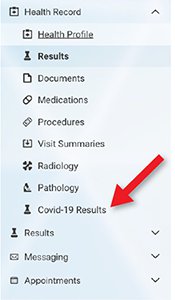 Walk-In Clinic
All Walk-In Clinics can see people with COVID-19 symptoms, Influenza A & B, RSV, breathing issues, etc. People with symptoms will be seen by a medical provider and can be tested for respiratory illnesses at this clinic. 
Community COVID-19 testing is by appointment at the Mattoon Walk-In Clinic (200 Dettro Drive, Mattoon). Call 217 258-7490 to register and receive an appointment. An insurance card or your driver's license must be presented before a test can be completed. There is no cost for the test, however, co-insurance and or deductibles may apply based on your insurance coverage for specimen collection for the test. It takes just about 3:30 minutes to be tested. Test results will flow directly into your patient portal as soon as they are resulted.
If you have been directly exposed to someone with the virus, please quarantine at home for 14 days. Remember, it generally takes at least three to five days after exposure for enough of the virus in your system to show up positive in a test, so testing before that point is not warranted. If you do not have symptoms, there is no need for a test. You should just quarantine. 
 
For our community members: please follow guidelines for wearing a mask anytime you must be in public. We ask that you remain diligent in helping control community spread of COVID-19.
COVID-19 Frequently Asked Questions
We sat down with SBL's James Hildebrandt, DO, to answer some frequently asked questions about COVID-19.
Hydroxychloroquine and COVID-19
For more COVID-19 FAQ, visit this page.
Pre-surgical/Pre-procedural
COVID-19 testing for those who need a test prior to a procedure or surgery will receive the test inside the new SBL Surgery Center on SBL campus (1007 Health Center Drive). Those seeking tests prior to a procedure will be registered by their provider and given an appointment time. They will be screened when entering the building.
For information about pre-procedural testing, call the Surgery Center at 217 258-7400.
 
ER Visitor Policy 
Patients are allowed one support person in the ER.
Visitor Policy at the Health Center
The visitor policy allows one designated support person per patient in inpatient and outpatient settings. The support person should call 2 South, 4 Medical and CCU in advance to determine whether their loved one can have a visitor. There are no support person visits for people with COVID-19 or who are PUI (person under investigation), unless it is end of life. 
Center for Healthy Living and Massage Therapy
The Fitness Center is limited to 25 percent capacity, which means no more than 57 people in the gym. The staff will monitor capacity. Fitness classes are resuming on a limited basis. The locker rooms are open. You must wear a mask while moving about the gym, and entering and existing the gym, but not while exercising. If you have questions or concerns, please call the Fitness Center at 217 238-3488. Massage Therapy is currently suspended.

COVID-19 Forms
Visit the COVID-19 FORMS to download a form to complete in advance of your test in the Matttoon Walk-In Clinic (200 Dettro Drive, Mattoon) to help speed up the process. You may also download and complete a form to have your results faxed to a specific designation. Please give this form to the screener. There is also a link in the right hand navigation.
Curbside Prescription Pickup
Prairie Medical Pharmacy is offering curbside pickup at Entrance F from 8:30 am to 5 pm, Monday - Friday. You will need to call 217-238-6270 in advance, and upon arrival, your prescriptions will be delivered to your car at the canopied entrance.
Patient and Visitor Screening 
Sarah Bush Lincoln screens all patients and visitors at Entrances A, B, E and F at the Health Center.
You will also be asked screening questions regarding symptoms (cough, sore throat, shortness of breath) travel and whether you had exposure to someone with the virus.
Visitors with any positive responses to the symptoms, travel or contact with someone with COVID-19, will be denied entrance into the building and recommended to call their primary care provider. 
Entrances A and B are locked at 8:30 pm, while entrances, F and H are locked at 5 pm. You will be able to exit the building through these doors. The ER can be accessed 24/7.
At extended campus clinics, patients are screened at reception desk when you arrive for your appointment.
---