Guild Volunteer Opportunities
SBL Volunteer Guild Scholarships Available
The Sarah Bush Lincoln Volunteer Guild Scholarship program is offering scholarships to students in the healthcare field.
Since 1979, the Guild has awarded more than $725,000 in scholarships in our ten-county service area to students who are pursuing their education in medically related fields.
In order to meet criteria:
Students must be a resident of the SBL 10-county service area.
Must be enrolled or accepted into a hospital-related healthcare professional curriculum and attending a school that is accredited or recognized as an approved program by the appropriate agencies.
GPA recommendation of 3.5 on a 4.0 scale or 4.5 on a 5.0 scale.
Demonstrate a need for assistance from scholarship fund.
The 2021 Scholarship Application is now available to fill out online and print. If you have questions, contact  Tracy Haddock, Volunteer Services Director at Sarah Bush Lincoln Health System at 217-258-4180.  All completed scholarship packets must be received in the Volunteer Services office by April 15, 2021.
---
Our Volunteers
Volunteers are an important element in the total patient care program at SBL. While providing community services, volunteers often touch the lives of others during difficult times.
There are many opportunities for you to use your special skills and abilities while experiencing new and exciting challenges. Volunteers meet new friends and learn first-hand about the care the Health System provides to the communities it serves.
The SBL Guild is an organization comprised of dedicated men and women who donate their time to the Health System by assisting employees and visitors in their day-to-day activities. Guild members also host fundraisers to help purchase local equipment, fund scholarships for healthcare students and fulfill other Health System needs.
Active membership in the SBL Guild involves a commitment of an average of three hours of service each month and a $6 annual membership fee.
What volunteer opportunities are available?
Arts & Crafts – Volunteers use their special talents to make handcrafted items that brighten the spirits of our patients.
Clerical Volunteers – These volunteers provide departmental support by answering telephones, filing, photocopying, and performing other light clerical duties.
Gift Shop Clerk – Owned and operated by the Guild, proceeds from The Gift Shop sales fund Guild programs, activities, and scholarships. It also features an online service so gifts can be delivered to patients from their loved ones.
Guest Relations Desk – Volunteers provide greeting, direction, and information to those entering the Health System.
Heart Center – Volunteers greet patients as they enter and escort them to their destination.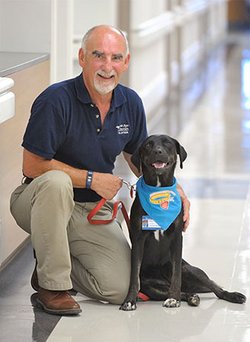 Pet Therapy – Do you have a certified therapy dog? If so, we would love to have you join our program! Therapy dogs and their owners make visits to specific locations throughout the health center. There are also opportunities to accompany the therapy team as an assistant.
Regional Cancer Center – Volunteers greet and provide assistance to patients and families. They also provide departmental assistance and offer support and encouragement to those waiting for patients.
Surgery – Volunteers sit with our younger patients while they are waking from anesthesia and provide comfort measures.
Volunteer Nurse Program – Licensed RNs who deliver compassionate and courteous care to patients throughout the hospital and serve in a variety of clinical settings.
For more information about becoming a SBL Guild Volunteer, please contact Tracy Haddock, Volunteer Services Supervisor, at (217) 258-2500.