Total Hip Replacement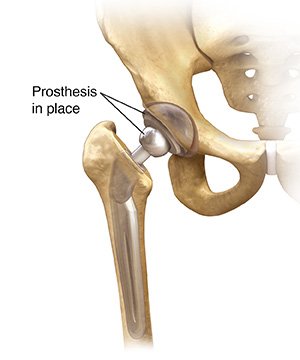 Total hip replacement surgery almost always reduces joint pain. During this surgery, your problem hip joint is replaced with an artificial joint, called a prosthesis.
Benefits of hip replacement
Total hip replacement surgery almost always:
Stops or greatly reduces hip pain. Even the pain from surgery should go away within weeks.
Increases leg function. Without hip pain, you'll be able to use your legs more. This will build up your muscles.
Improves quality of life by allowing you to do daily tasks and low-impact activities in greater comfort.
Provides years of easier movement. Most total hip replacements last for many years.
Your surgical experience
You will most likely arrive at the hospital on the morning of surgery. In many cases, pre-op tests are done days or even weeks ahead of time. Follow all of your surgeon's instructions on preparing for surgery. When you arrive, you'll be given forms to fill out. You will also talk with the anesthesiologist, the healthcare provider who gives the anesthesia, if you haven't done so already.
Preparing for surgery
Follow any directions you are given for taking medicines or for not eating or drinking before surgery. You may need to stop certain medicines several days or weeks before the surgery. At the hospital your temperature, pulse, breathing, and blood pressure will be checked. An IV (intravenous) line will be started to provide fluids and medicines needed during surgery.
For more information on this topic, visit our Health Library.
For more information or to schedule an appointment, call:
SBL Bonutti Clinic at 217 342-3400, or
SBL Orthopedics & Sports Medicine at 217 238-3435
More about Total Hip Replacement