SafeSitter Program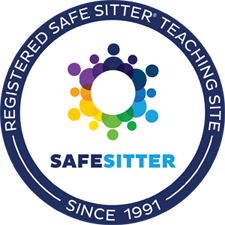 Safe Sitter is a one-day, nationally certified course designed for children ages 11 and up. Taught in a fun and interactive format, Safe Sitter teaches participants safe and nurturing child care techniques, behavior management skills, and appropriate responses to medical emergencies. In a Safe Sitter class, students learn through lively discussion, practice and role-play about a variety of topics including baby sitting ethics and etiquette and the business aspects of baby sitting. Class materials are included in the $30 fee. This course is open to community members. Class size is limited.
Registration opens April 1, 2021
2021 Dates:
8 am to 4 pm, June 3 - Washington Room
8 am to 4 pm, June 17 - Adams Room
8 am to 4 pm, July 7 - Adams Room
8 am to 4 pm, July 27 - Washington Room
Graduation Ceremony at 3:30 pm
Lumpkin Family Center for Health Education at Sarah Bush Lincoln
For more information or to register, please call (217) 345-6828 (leave voice mail) or e-mail Laura Bollan at lbollan@sblhs.org.