SBL Evergreen Clinic
1104 West Evergreen Ave.
Effingham, IL 62401
217 347-2500
Hours:
8 am to 4:30 pm – Monday through Thursday
8 am to Noon – Friday
---
General Surgery
Services:
Laparoscopic Procedures
Breast Care Clinic
GI Endoscopy / Colonoscopy
Surgical Oncology (cancer of colon, breast, skin etc.)
Dialysis Access
Thoracic Procedures
Skin Lesion Care
Capsule Video Endoscopy
Thyroid & Parathyroid Surgery
Hernia Repair
Acid Reflux
Gallbladder
Appendix
Port Placements
---
Urology
SBL Evergreen Clinic
1104 W. Evergreen Clinic
217 258-4186
Hours:
9 am to 3:30 pm – Tuesday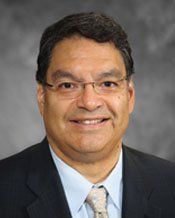 Fernando Gonzales, MD
Services:
• Prostate cancer
• Kidney cancer
• Bladder cancer
• Testis cancer
• Penile cancer
• Kidney stones/stone disease
• Bladder stones
• Enlarged prostate (BPH – Benign Prostatic Hyperplasia)
• Incontinence/Female urology
• Infertility
• Erectile dysfunction
• Premature ejaculation
• Prostatitis
• Urinary tract infections (cystitis)
• Pelvic pain
• Peyronie's disease
• Male Infertility
• Overactive bladder
• Urinary and fecal incontinence
• Low testosterone (hypogonadism)
• Blood in urine (hematuria)
• Urinary retention (inability to empty bladder)
---
The SBL Patient Portal is available through the Evergreen Clinic.
Through this secure portal, you can:
   • request an appointment with your doctor or advanced practice provider
   • request a medication refill
   • update your over-the-counter medications and allergies
   • view your test results
   • talk with your doctor's office
Use this form to have your medical records transferred to another physician.