High Blood Pressure
High blood pressure (hypertension) is known as the "silent killer." This is because most of the time it doesn't cause symptoms. In fact, many people don't know they have it until other problems develop. In most cases, high blood pressure often requires lifelong treatment.
Understanding blood pressure
The circulatory system is made up of the heart and blood vessels that carry blood through the body. Your heart is the pump for this system. With each heartbeat (contraction), the heart sends blood out through large blood vessels called arteries. Blood pressure is a measure of how hard the moving blood pushes against the walls of the arteries.
High blood pressure can harm your health
In a healthy blood vessel, the blood moves smoothly through the vessel and puts normal pressure on the vessel walls.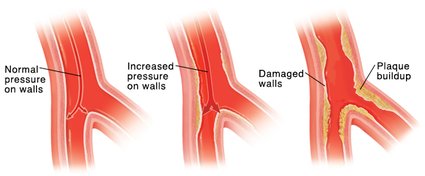 Blood pressure is categorized as normal, elevated, or stage 1 or stage 2 high blood pressure:
Normal blood pressure is systolic of less than 120 and diastolic of less than 80 (120/80)
Elevated blood pressure is systolic of 120 to 129 and diastolic less than 80
Stage 1 high blood pressure is systolic is 130 to 139 or diastolic between 80 to 89
Stage 2 high blood pressure is when systolic is 140 or higher or the diastolic is 90 or higher
For more information on this topic, visit our Health Library.