Hip Replacement Surgery
The hip joint is one of the body's largest weight-bearing joints. It is a ball-and-socket joint. This helps the hip remain stable even during twisting and extreme ranges of motion. A healthy hip joint allows you to walk, squat, and turn without pain. But when a hip joint is damaged, it is likely to hurt when you move. When a natural hip must be replaced, a prosthesis is used.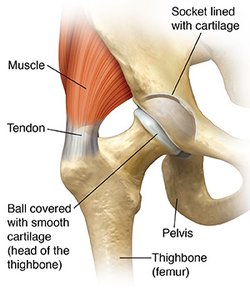 A healthy hip
In a healthy hip, smooth cartilage covers the ends of the thighbone, as well as the pelvis where it joins the thighbone. This allows the ball to glide easily inside the socket with little friction. When the surrounding muscles support your weight and the joint moves smoothly, you can walk painlessly.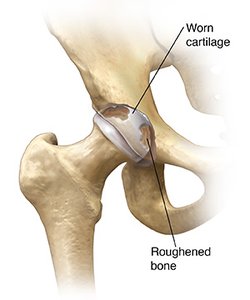 A problem hip
In a problem hip, the worn cartilage no longer serves as a cushion. As the roughened bones rub together, they become irregular, with a surface like sandpaper. The ball grinds in the socket when you move your leg, causing pain and stiffness.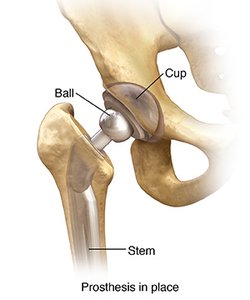 A prosthesis
An artificial ball replaces the head of the thighbone, and an artificial cup replaces the worn socket. A stem is inserted into the thigh bone to keep the ball in place. These parts connect to create your new artificial hip. A plastic liner is placed between the metal ball and cup to create a smooth surface for comfortable movement once you have healed.
For more information or to schedule an appointment, call:
SBL Bonutti Clinic at 217 342-3400, or
SBL Orthopedics & Sports Medicine at 217 238-3435
Hip replacement surgery