Women & Children's Center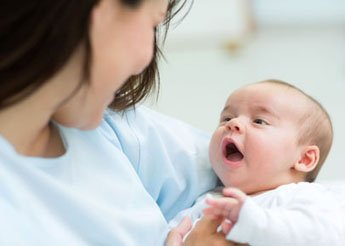 The Women & Children's Center, located on the second floor of Sarah Bush Lincoln, is home to pediatric rooms, labor and delivery and gynecology rooms.
Each year approximately 1,000 women give birth at Sarah Bush Lincoln. We provide nine suites that make their stay with us a pleasant experience. Called our LDRP Suites, these rooms allow the mother to experience (L) labor, (D) delivery, (R) recovery and (P) postpartum in a lovely room with all the amenities of home. The large rooms are equipped to allow the family to celebrate the joy of birth with the state-of-the-art equipment needed to assure a healthy birth. The focus of the center is to make the birthing process a family-friendly event in which mom, dad, or birth partner, siblings and grandparents feel comfortable and connected while bonding with the new baby. VISITOR GUIDELINES
Security on Unit
To help ensure the safety of your newborn, the Women & Children's Center is a secure access unit. Expectant and new mothers are able to give the access code to visitors. Additionally, coded wrist and ankle bands are placed on all newborns and their parents. Should a baby leave the unit without consent, the staff will be alerted.
SBL Home Medical Equipment , with locations in Mattoon, Effingham and Vandalia, provide a wide variety of quality breastfeeding products. The staff works closely with the Women and Children's Center's lactation consultant and carries products that are baby friendly and mommy approved! These include Medela products, such as the Pump in Style double electric pumping system, Medela rental pumps, Medela nursing bras and more. For information regarding these products and the additional breastfeeding services that Sarah Bush Lincoln offers, call Lactation Nurse Specialist Allison Masse, RN, at 217-258-2229. 
Expectant mothers can benefit from Oh, Baby! , our comprehensive pre- and postnatal classes. Participants can register online for all of them.
Women who have undergone gynecologic procedures, or have gynecological issues, may receive care of this unit. Additionally, a special section is intended for pediatric use.
If you have any questions regarding the Women & Children's Center, call 217-258-2297.
Take a virtual tour