Willow Breeze
SBL Hospice House
10660 County Road 800 N
Mattoon, IL 61938
217-258-1090
fax: 217-258-1099

A Peaceful Place
Sarah Bush Lincoln Hospice believes in embracing life's final journey with dignity, compassion, and the utmost care. We extend a warm welcome to you, and your loved ones, inviting you to experience a haven designed to provide solace and support during this tender time.
Nestled in peaceful surroundings, our hospice house is a sanctuary of comfort where your physical, emotional and spiritual needs are met. Our tranquil rooms are thoughtfully furnished to create a serene atmosphere, encouraging moments of connection and reflection. The soothing sounds of nature and the ripples on the pond offer a backdrop of tranquility.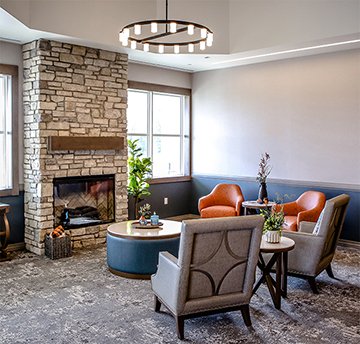 Our team of experienced and compassionate professional is dedicated to providing comprehensive hospice care. We collaborate closely with physicians, nurses, counselors and volunteers to ensure that each individual's unique needs and wishes are met. We are here to offer unwavering care and companionship throughout the journey.
We offer personalized attention tailored to your preferences and cultural beliefs. We invite you to share your life stories, hobbies, and interests so we can create moments of joy and meaning. Our team works together to provide a holistic approach to address all aspects of well-being.
Willow Breeze embraces family and friends as an integral part of the care team. We encourage your loved ones to spend quality time by your side, creating cherished memories and ensuring your comfort. Our communal spaces are designed to foster togetherness and provide space for support and reflection.
Each life is a unique journey, and we honor that journey with dignity and respect. Willow Breeze provides a serene setting for end-of-life celebrations, allowing families and friends to gather to remember their loved ones in a meaningful way.
We invite you to visit Willow Breeze and experience firsthand the tranquil environment and compassionate care that awaits you. Come and take a tour, meet our dedicated team, and learn more about how we can support you and your family during this significant time.
For more information or to schedule a visit, please call 217-258-1090.
---
Make a donation to Willow Breeze, the SBL Hospice House
You can purchase a granite brick or block engraved in memory of a loved one, or with your name to show your support. Donations benefit the endowment to help those who struggle to pay for their stay in the beautiful home.

$1,000 for a 4" x 8"  (3 lines, up to 15 letters per line)
$2,500 for an 8" x 8" (5 lines, up to 15 letters per line)
You may also have in individual plaque inside the hospice house or throughout the beautiful landscaping for donations of $5,000 or more. Contact Amy Card, SBL Health Foundation Director, at 217-258-2511 or [email protected].

For more than 50 years, Sarah Bush Lincoln Hospice has provided exceptional care to those who are terminally ill. Willow Breeze affords people the ability to pass peacefully with their loved ones by their sides.
The SBL Hospice House represents an ongoing commitment to the community we serve. It offers:
Eight private suites for people of all ages
Walk-out patios that overlook the landscaped pond
Family Quiet Rooms that accommodate overnight guests
Family Kitchen and Coffee Bar
Library & Work Space
Chapel
Activity Room
Covered patio to enjoy the outdoors
Walking path partially around the pond
Visiting hours 24 hours a day, seven days a week
Our staff
Medical Director
Registered Nurses
Hospice Aides
Social Worker
Bereavement Counselor
Spiritual Counselor
Volunteers
While most health insurances cover hospice care, they do not cover the cost of room and board. An endowment has been funded to help pay for these expenses for those without means. Sarah Bush Lincoln does not turn anyone away who cannot afford their care.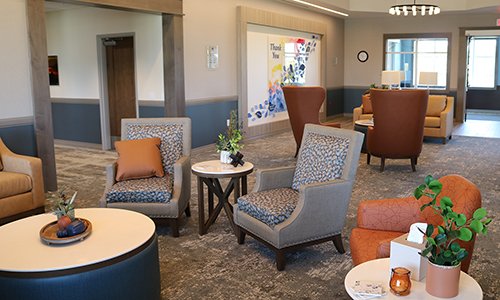 Great room with fireplace offers a wonderful and comfortable space to unwind.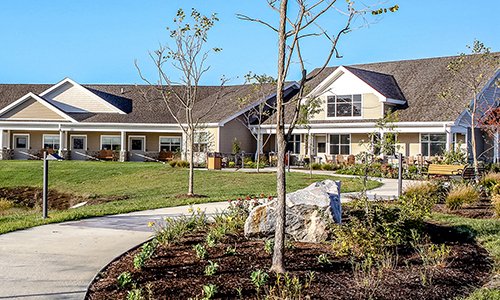 Meticulously landscaped areas are enjoyable from the patios and walking path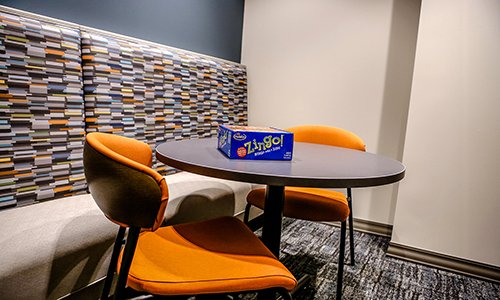 Activity Room provides young people an opportunity to be close and disconnect when needed.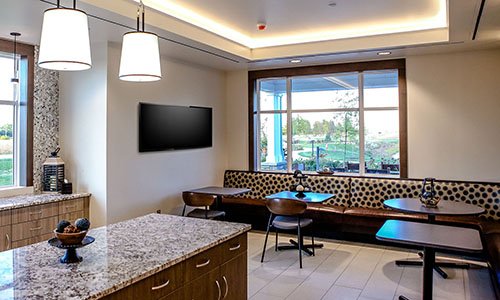 Family Kitchen and Dining are intended for families and friends to come together and share meals.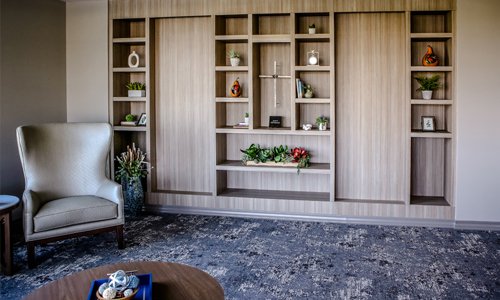 Chapel is a peaceful place where people can meditate, reflect or find solace.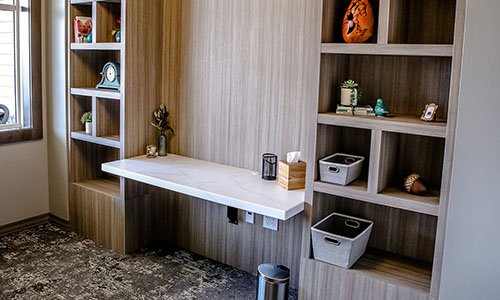 The Library & Work Space affords guests the ability to work while continuing to be present.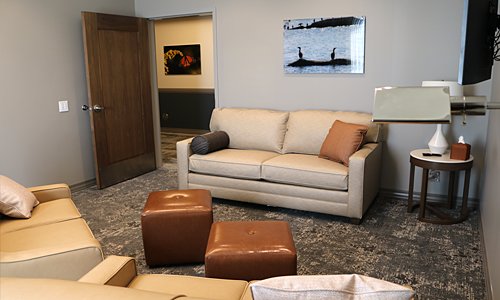 Family Quiet Rooms provide a comfortable space accommodating overnight stays for family members and friends. Each room has a large attached bathroom.