Ostomy Care & Support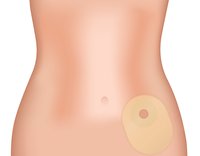 People who have a stoma often share many of the same questions and concerns. This best practice document provides answers to some of the common questions that people ask about the day to day care of the stoma and the surrounding skin. The answers are directed to the person who has a stoma but may also be helpful for the nurse as a teaching tool.
People with a stoma often worry that their skin may become irritated from the stool, urine, or pouching system. It is important to treat the skin gently, protect it from stool, urine, and chemicals, and use products correctly to decrease the chance for skin problems.
The basic rule is to keep it simple.
Understand the reasons for doing what you do. Follow your Wound, Ostomy, Continence (WOC) nurse or health care provider's recommendations and the directions from the product manufacturers. When fewer products are used on the skin, there is a smaller chance for developing skin problems. If you have questions about the information in this document, problems with leakage, or skin problems around the stoma, contact your WOC nurse or your health care provider.
Visit our Health Library for Ostomy related topics.
Ostomy Support Group: Contact Jenna Vogel at [email protected] or 217 238-4804.
---