Ensuring Peace for Mom
SBL Hospice provided peace and dignity at the end of Betty Podeschi's life.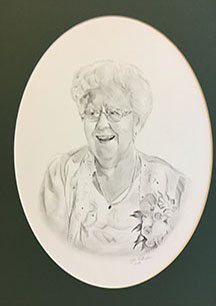 Betty Podeschi was a beacon of light for her family. As the matriarch, she was deeply loved by her daughters, Natalie Kesman, the late Debbie Cossiboom, Lisa Simpson, her son, Rick, their spouses, and her extended family. Betty died on July 10, at 93 years of age.
"My mom had a great laugh," Lisa said. After Betty's beloved husband, Richard, died, the two women developed a habit of drinking their morning coffee together— sometimes for hours—when Lisa visited. Lisa remembers the coffee as being extra special because it was percolated. Lisa described her mom as "kind, and her beautiful brown eyes lit up a room. She valued her husband and four children more than anything else." Betty and Richard were married for 59 years.
Rick Podeschi echoed his sister's sentiment. When asked to describe his relationship with his mom, Rick replied quickly, "We were joined at the hip." Sunday mornings with his mom, following the 2005 death of his dad, were particularly special, as it was then that Rick spent time with Betty discussing local and world news, Cardinals baseball, college basketball and many other topics. Rick also paid the bills and took care of other chores during those visits.
Most recently, Betty had been living at Heartland Christian Village in Neoga when Rick and his wife, Linda, received a phone call from the staff at the facility. Betty had been transferred to the Sarah Bush Lincoln Emergency Department due to a life-threatening condition. Emergency Department Physician Joni Ferguson, MD, talked with the family about hospice care. "All the signs were there. She had become withdrawn. She couldn't walk or take care of herself any longer. She wasn't her same gregarious self," Linda said.
Betty was then admitted into the hospital and into SBL Hospice where she spent her final days.
It was serendipitous that Emily Shoot was her hospice nurse. "We had known Emily from years ago, and we had a good rapport with her," Linda said. "She was incredibly kind and lovely. She would come into the room and talk with mom, touch her face and arm. We saw a light in her. She was just amazing," Linda said. Emily became a friend to Betty and to her family.
Emily had also become their go-to person. When Betty became restless (a common end-of-life symptom), Emily called the family to let them know that the end was near.
"[But] God had other plans," Linda explained. "Mom was hanging on for a reason." Lisa, who lives about 25 miles southwest of Chicago, had returned home to get some clothes and take care of a few things before rushing back. Betty was waiting on Lisa to return. "When I came into my mother's room, she opened her eyes and had a smile on her face," Lisa recalls. Around midnight that evening, a staff member stopped in to ask if she could pray with her. Lisa stayed the night in her mother's room and they fell asleep holding hands. Betty passed away in the early morning hours.
Linda recalls the care the family witnessed from staff members. "Dr. (John) Caltry was amazing. He came by to see how Betty was doing and noted how labored her breathing was. He gave her some medicine to calm her down. He would talk with her, and he was so kind and gentle," Linda recounted. Dr. Caltry serves as the medical director of SBL Hospice, and he is a SBL Emergency Department physician.
SBL Hospice provides end-of-life care and helps families through the dying process at their homes, in long-term care facilities and in the hospital. "The women with SBL Hospice were just angels," Linda said. "I cannot begin to tell you how much we all appreciated the care."
While many people receive hospice care in their homes, the Podeschi family decided that Sarah Bush Lincoln was the best place for their mom to spend her final days. Moving her back to Heartland Christian Village would have added a stress that she didn't need, they said. "She always felt safe at the hospital," Linda said. "It was very peaceful and quiet there. Everyone was so kind, caring and compassionate."
Rick had promised his dad before he died that he would always take care of his mother. "During this incredible and difficult journey these past few months, all we ever wanted for mom was the best care possible and that she live pain-free," Rick said. SBL Hospice most certainly helped provide a tender, loving and dignified end to our mother's life. Now our family must begin a new journey: living without her."
"We so appreciate being able to share our story with others who may someday need this remarkable service," he said.